Dollbaby Halloween Tray'scape 2011
jeannespines
October 17, 2011
Well, I had shared Dollbaby w/her Fall decor earlier ...& now I kept alot the same for Halloween. But I found the cutest accessory for her Tray-scape! Here's the tag that came on it ($1 @ a GS this summer):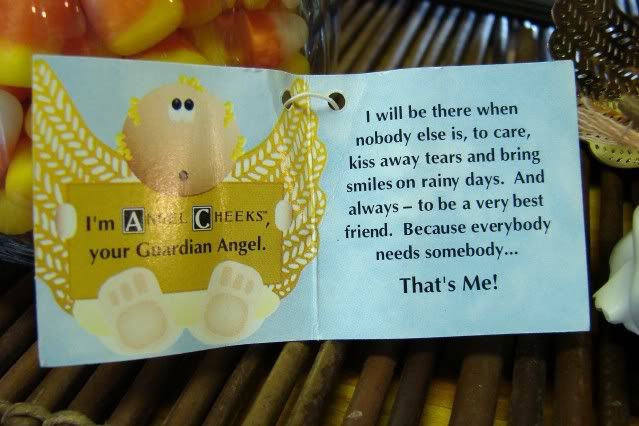 And here is the Angel Cheeks Witch:
Isn't she a hoot! I think Dollbaby really likes her on her tray'scape! I used the bottom of the butter dish (cloche) like Kathleen's to sit her up:
...and battery tealight underneath it: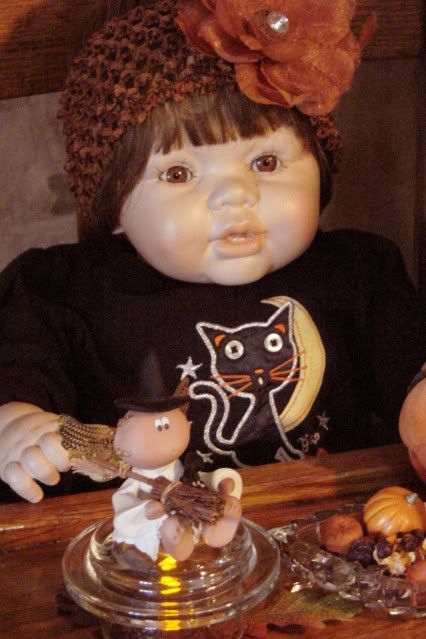 Added the little ceramic ghost that's been around for many yrs from a craft show:
Since I just bought this new 'flower child' headband for her, I decided not to dress her in witch's hat & hair (like last yr):
The top of my china closet in the DR/LR area got a new candle light recently...they are scented & the electric candlelight flame warms the wax...ummmm, smells heavenly!
The brown pitcher is a family heirloom brought over from Denmark...& the pretty glass swirly pumpkin I got at HLobby Fall clearance a yr or two ago.
So, happy Fall, Holiday-ers...hope you are enjoying the change in the season now...it is the middle of Oct.! TFLookin'! Jeanne S.