Fall #2
I'm laughing at you guys...thinking I'm running around decorating now...I'd be a gonner for sure if I did that!
ALL The Decorating and Picture taking was DONE right BEFORE I got sick...towards the 'end' I was pushing with my last ounce... (and wasn't listening to my body)!
Right now the ONLY energy I've got left, is to move my fingers (and mouth as DH said)....on my PC and download the pics from my camera!
Here's a few more...
A simple arrangement on Breakfast Table...
The Blk Candlesticks and Woven Charger were GW $1 ea
It actually looks better IRL...
This is a TV Cabinet DH made to 'hide the TV' where we eat... One of the things on it is the lantern I got 'Free' from last month's Giant YS...
The Farm Woman is a Hand Carved Wood Piece I bought yrs ago at a TS for $4...the foot was broken..but I knew DH could fix it. The Old Granite Coffee Pot was retrieved from a dumpster from an Old Farm House that was being torn down - believe it or not, in lower NY when I lived there. I couldn't believe they would do that. There was also some graniteware pieces as well.
Sofa Table Vignette...
Shaker Boxes - ES $6 for both..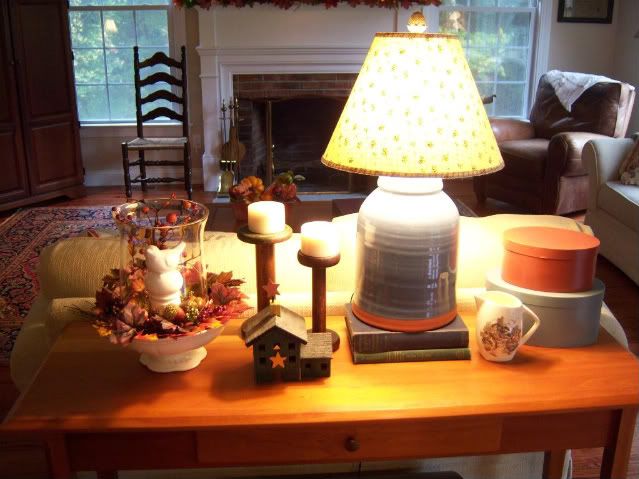 The Footed Bowl I found at GW it says 'Yankee Candle' underneith..$3...The Bird was CTS on clearance $1
Kitchen Counter...Kept it very simple this yr...
I got the Metal Leaf Basket (actually looks better empty) at a Consgn Shp last Spring $5..The Squirrel (you remember last yr) CTS I think was $1..The Candleholder above TS $1
and the Theorem Apple print - TS $3...
Hall Table...
I bought two of these cups at Marshalls $2 ea. I thought they were so cute for arrangements...too large for coffee or tea.. but maybe soup.
Okay...More later...
time to take a nap...my fingers are worn out !! LOL
jane