Fall #4 ))) & Final !!!!
These are the last of Fall Pics - I promise !
I know your eyeballs are probably 'fried' by now!
Small DR Table with the second Bird Cup I purchased.
This arrangement is a little different from the first cup..
Large China Cabinet... I didn't really decorate it this yr..
I was running out of steam and I just did a small vignette.
CTS Pumpkin Bowls..'Where's Betty' !! Footed Cake Stand
Southern Living..and Leaf dish - CTS. By the way, that Pewter Lamp - was w/o the Blk Shade when I bought it at a Town TS this Summer, for a 'Whopping' $.25. I couldn't believe the woman only wanted a quarter for it! I then bought the shade for $1.99.
Small Buffet arrangement.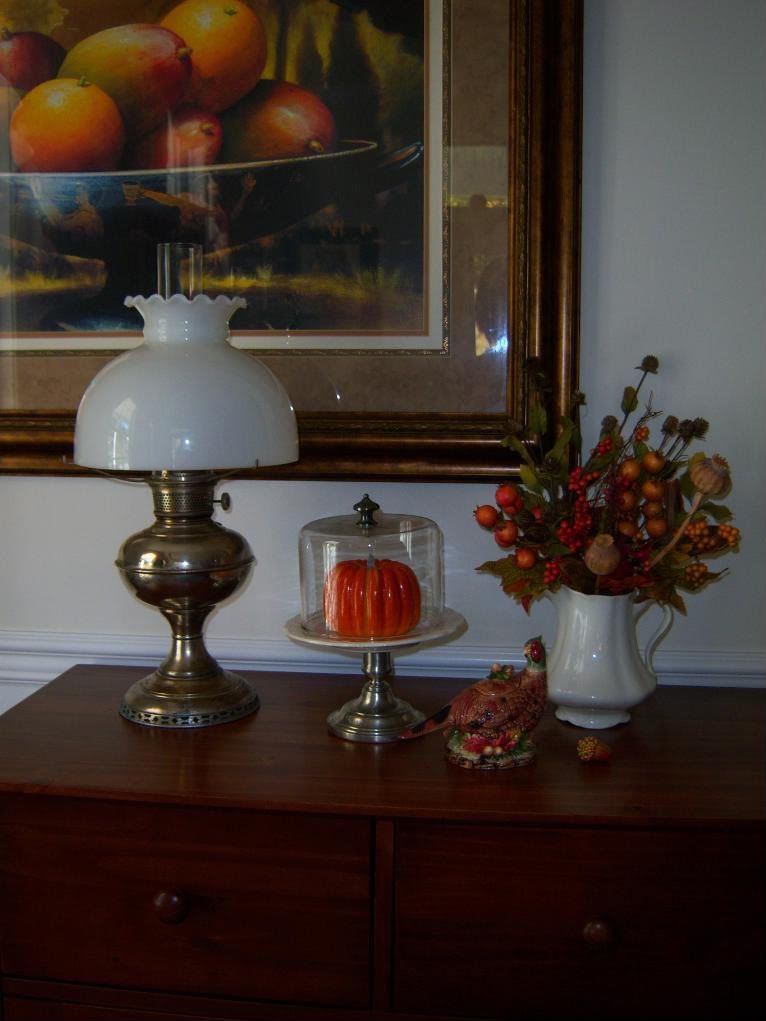 I used a pewter candlestick with some 'tacky stickem' and placed a plate on top of it to create a footed cake stand...then added the glass cloche on top. The cloche was from GW for $3.
This little guy was a 'Great Buy'. One day I was in HG and I saw him, but the floral knob was chipped. He was the only one they had, and was marked $5.99. I asked if they would discount him...and the girl said okay - $1...Wowie @@
I'm on the look out for larger ones..They're so pretty.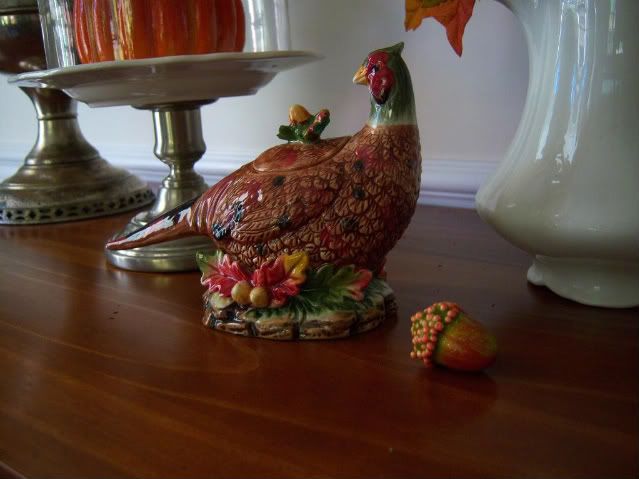 Dining Room Table -
And Finally..my Blk Hutch. Some of you probably remember the one that we bought unfinished and make it look like this.
I mixed together my Johnson's Friendly Vlg and Johnson's Autumn Monarch Plates. I bought the AMs at the End of August. DH thought I was nuts thinking Thanksgiving at that time, but I told him - if I didn't get them then...that would be it! I only bought 4 and now I can't find the same ones to add on to!
CTS pumpkin bowls..the two small tureens were from my DM and the tureen with the rooster was a gift from a friend.
Also some of my Pewter collection.
Okay I hope I didn't torture you too much...
Thanks for looking...
jane