Winterfrost 'Dessert Cup Stemware' plus....
jeannespines
September 28, 2011
Remember my Winter dishes that I have t'scaped a couple yrs now...
well DH & I stopped at GWill on a rainy day this wk & look what I found ... 4 dessert cup stemware for $1 ea!!! I almost jumped up & down! I know my eyes lit up! LOL!
I'd never even seen the dessert stem before so for comparative pricing I found one on ebay listed for $16.99 ... so I got a real bargain...I'm so thrilled when I find some pcs to add to dishes I love!
Only trouble is Good Will prices their wares w/magic marker on the bottoms & someone must have used 'permanent' on these! I usually can get pricing off w/Dawn soap..not so here...so Googled & tried rubbing alcohol...they still show a little bit...also glassware is hand wash only...Any other ideas?
Been very busy (vacationing), visiting GK's & trying to play catch-up & shopping w/friends (tough life, uh?) ...so not much decor done but did get a couple things to post ...I LOVE TJMaxx ...& saw this 72" runner ($16 instead of retail $30) which I will use w/my new (old) Stuebenville Woodfield plates & cups I've posted before...aren't the colors lovely...& I thought a good match for these salmon colored plates!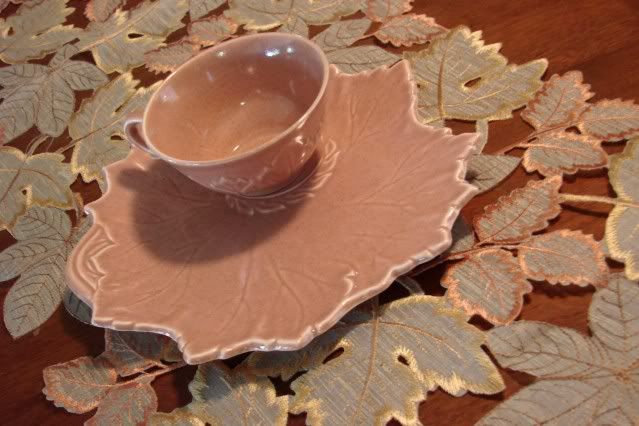 And I spent $6 on some sale $1.27 stems at Ben Franklin yesterday w/friends...added to this basket & round placemat...the owl I got at TJMaxx for $5 ...gold-colored glass (they also had red, green) kind of like Christmas ornies but heavier! I think 'owls' are back in this yr! LOL!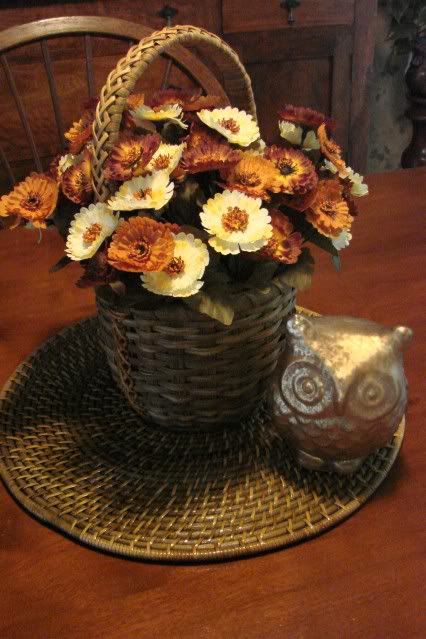 Lots of outside work to do ...so will be working on Fall decor for awhile, too! TFLookin'! Jeanne S.