Simple Country Table Setting On Our Porch...
Well, it's been MONTHS since I've done a Table here...
Since we lost our Neice last Mother's Day, and with so much 'Stuff' going one here...I just hadn't been able to 'Get Myself Together'. You all have kept me inspired throughout the summer and I've enjoyed All your wonderful tables and 'Treasures'.
So, since DH and I had some 'Quiet Time' by ourselves this weekend...I got inspired to put together a table. It's small and simple..but it's a start again, for me.
Hope you enjoy sitting at our 'Simple Country Table !
Most of what's on the table is from CTS~
So you know this was 'Cheap...Cheap...Cheap !!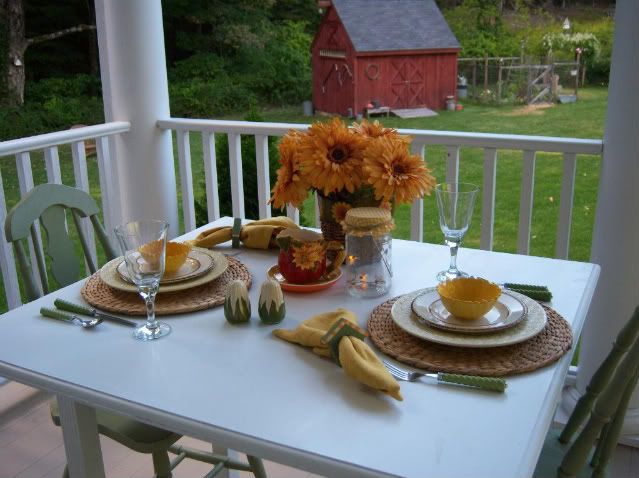 The cute little Sunflower Bowls - CTS $.99 ea
The Basketweave Plates were from last Fall's 'Ultimate Garage Sale (coming up again in two weeks!)
I seem to remember that I got 4 plus a bowl, for $2.
The napkins 4- $2 and the Birdhouse Napkin Rings $.25 ea.
From Ocean State Job Lot. The small Salad Plates were from Big Lots..$.50 ea. Placemats - CTS, $l. ea. Green Rope Flatware - CTS, $4.99 (kathleen has them too).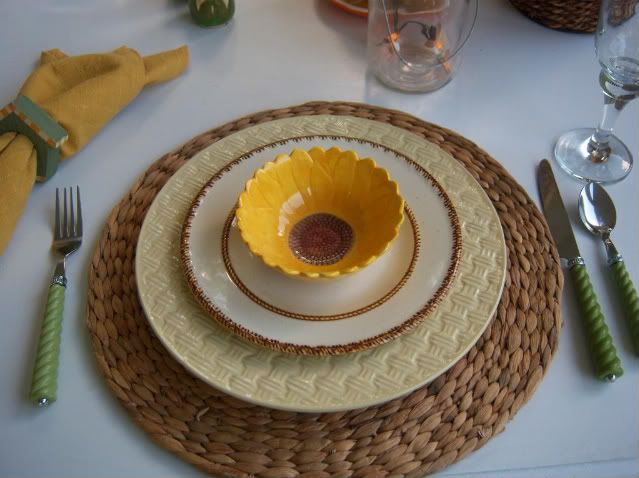 S&Ps..were from GW - $1...The cute Firefly Jar - CTS $1.69
They flicker like real fireflies!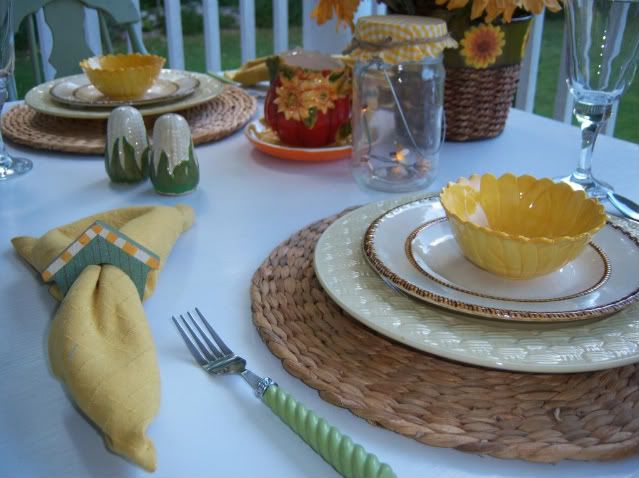 The little Sunflower Pitcher - CTS $1.99...and the plate under is an (orange slice) CTS - $1.
The Sunflower Basket - CTS $1.99..Flowers CTS -
$2.99...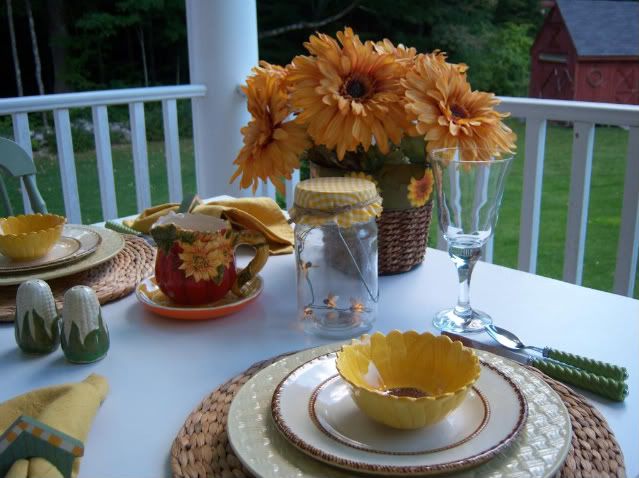 Hope you enjoyed your stay... You're Welcome Any Time !!
jane