Inside or Outside Decor...that is the ???
jeannespines
September 29, 2010
It's been a beautiful Fall week here the past few days so trying to enjoy Fall inside & out! Here's a couple pics of just a simple metal leaf I filled with the "same white pumpkin stuff" that frou did in her very lovely, lovely dining area (except I used the pinecones & added some weird nuts, too!) LOL!
Close-up: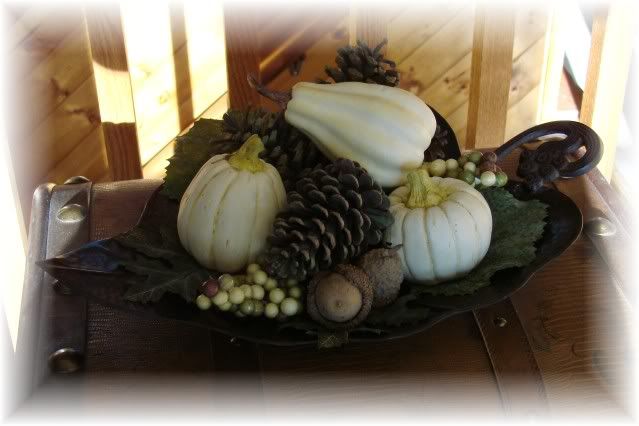 Full view of the leaf on the luggage-looking table that I've had for quite some time (always wanted another but never found one again)...sunshine coming thru the window:
The bulk of my day I was outside painting on my Potting Table...you may have seen this...I can't remember...anyway, added a twig basket with a few garden gourds & the last green pepper...added Curly Willow sticks in the potting table window opening & the painted grape window is in the bkgrd (painted by my friend)...I love it:
Of course, in this side view, you can see the Blue Bottle fence ...moved my Boston Fern out there...freeze coming this weekend: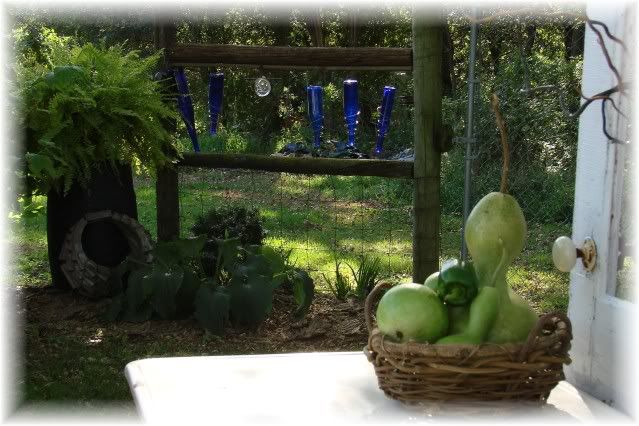 I tried to leave some of the "chippy" old worn look:
Here's full view of the potting table: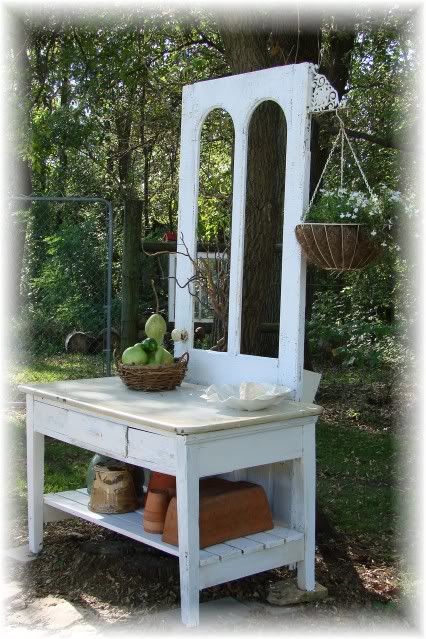 And here's the WHOLE Fall vignette of potting table, blue bottle fence & grape window:
Ok, I'm done for the day...but working on a t'scape for Oct 2nd...Guardian Angel Day! LOL! TFlookin'...Jeanne S.