Fall/Holiday Finds (+) from MN Vac
jeannespines
September 19, 2011
DH & I hit a couple thrift shops & some really nice specialty stores while camping at the lake in MN. As you can imagine my shopping traits have changed a bit since coming on this forum...so here's some more 'runners' & 'placemats:'
Watermelon $2 at TS..won't that look just dandy on the buffet w/Dollbaby's summer outfit!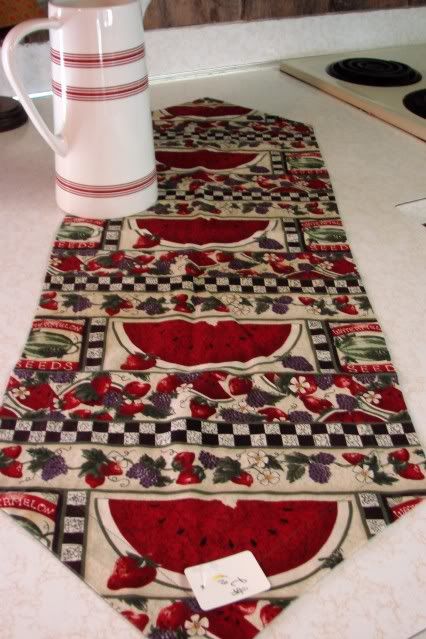 And 6 denim placemats & 3 Fall colored ones ... all $1 each...I can hardly pass up placemats anymore if they're $1 or less! (now I must re-organize the buffet drawers...they are getting mighty full of linens!)
The print is a Robert Duncan ($8) instead of retail ($20)...he's the artist of my snowy farm Winter scene I use above my buffet in the Winter..love his works!
And then in a specialty shop I saw a leather placemat that I fell for hard! So I asked if they had a runner like it & they did...I spurgled for my Fall decor & bought it..brand new new!
Here's what it looks like ... the casserole dish I bought at a TS...as I never see that pottery pattern & I have the little glasses that we use for everyday (I set one beside it) ... at another TS this bottle $4 called to me because of the colors & the rope decor around the top...(& in the backgrd I could here voices from 'Enablers R Us!') The bottom of the bottle (very heavy) is embedded with "Formalities by Baum Bros, IM ...Made in Philippines:
Also I found this TS mirror w/gold colored frame $4 (tho plastic) that I will use for t'scaping decor...& some Christmas tree ornies (25% off), Mercury Glass ornie (25% off) ...some TS silver napkin rings (4 for $2), a 50% off pewter tree frame (I love it!)...I can replace the back easel on it that was broken off) & a bar of Toasted Hazelnut B&B Works soap! Ummmmmm! Sorry...just had to share the details! LOL!
Here's a closer view of those tree ornies & napkin rings: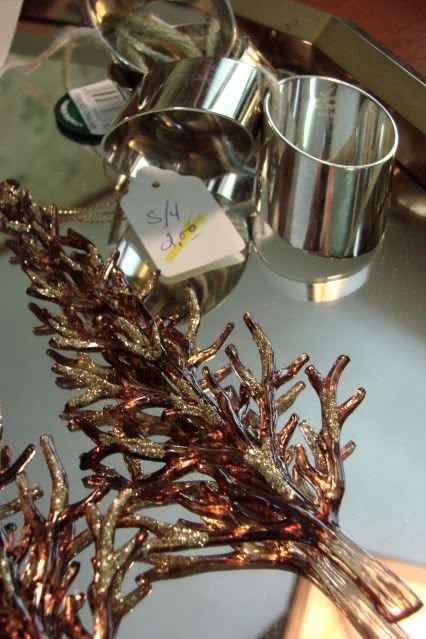 & a close-up of the pretty pewter tree frame: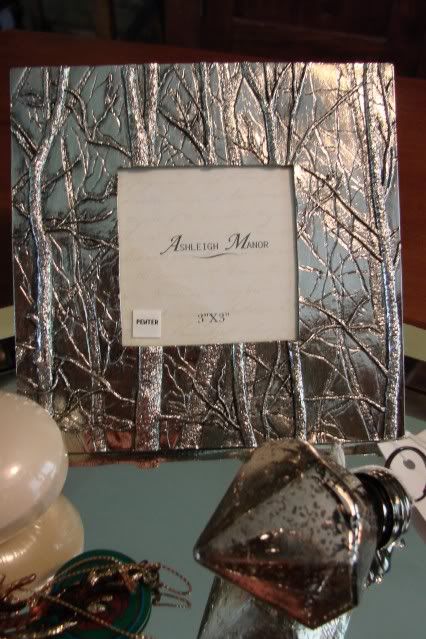 Ok, that's it! Thanks for lookin' & lettin' me raaa-amble on! A good vacation! Jeanne S.