can you mix and match sink with vanity?
is this a really stupid question? b/c i've googled this to no end, with no real answer. this is what i'm thinking:
i've been looking at vanities and i found a kohler sinktop that i love, but i don't love the vanity that it's meant to go with.
i'm posting a picture of the sink and vanity together from kohler's Escale line.
i definitely want more storage than what that option gives, but i'm not sure if you can mix and match brands for the sinks and vanity? i've been looking at duravit a lot for the vanities, which would give more storage - see link below photo
the vanity is 47-1/4 X 18-1/2
the dimensions of the sinktop which is a little oddly shaped and purposefully juts out over the vanity is approx 14 X 40 with a 6 inch overhang of the sink-basin:
http://www.us.kohler.com/webassets/kpna/catalog/pdf/en/1052866_4.pdf
otherwise, is a custom vanity needed?
THANKS!!!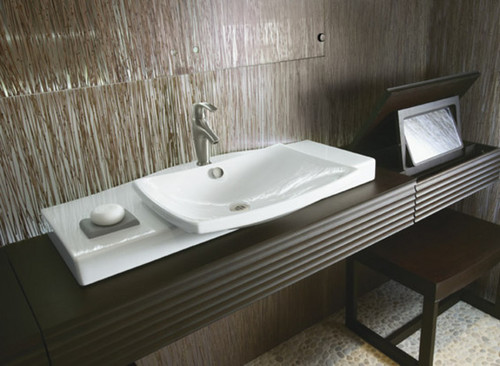 Here is a link that might be useful: duravit delos