OH my, What a Sale!!!!!! (PICS)
yachter123
September 9, 2010
Ok, we usually do not have sales on Wednesday around here, so after gdson went to school, I was browsing the local sales online & saw one in a subdivision in my town.
It was in an exclusive area where I have found many nice things in the past and is less than 5 mins from my house.
I figured why not run over there & check it out. It said Estate Sale, clothes, shoes, purses & household!
OH my, when I pulled up, the driveway looked like you were in Home Goods or Hobby Lobby. Tables upon tables of home decor, the entire driveway was full, besides the tables.
Inside the 3 car garage were racks upon racks of expensive dress clothes, coats, wraps, jackets, scarves, jewelry, purses, you name it!!!
I picked up 6 pair of sunglasses for my gdaughter, she loves them & they were all Nina Ricci, Sag Harbour & other brands, at .50 each!
Here are the things I purchased for ME.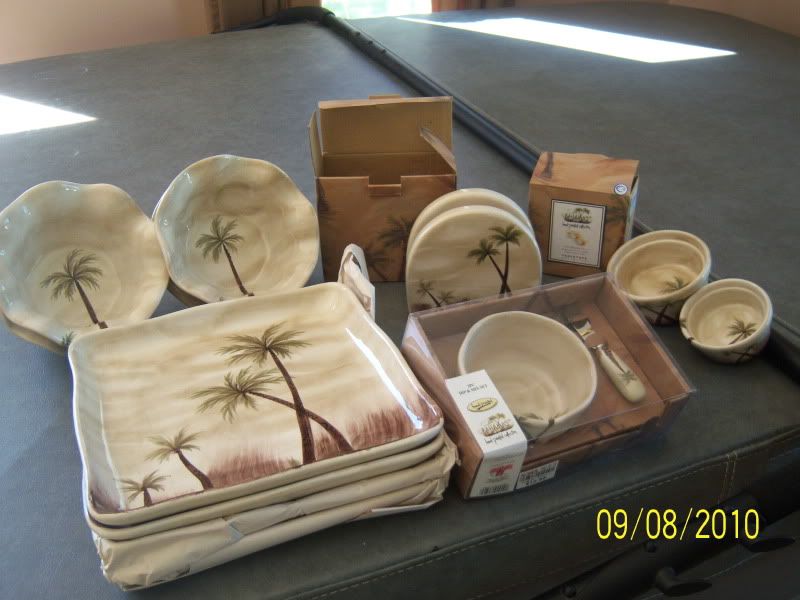 This set includes 4 plates, 4 bowls, a napkin holder, two ramikin bowls & a dip & spreader. They were all brand new, plates & bowls still have the Kohl's tags on them at $12.99 each, that is each plate & each bowl, not the set. The other items were also $12.99 each, tags still on them.
The lady sold the entire set to me for $20.00!!!!!!!!!

This basket has inset metal leaves & grapes and metal handles, brand new tag at $37.00 marked down to $18.99 and I paid $8 for it.
The trunk was new price tagged $29.99 and I paid $10 for it. The plate/picture holders were new tagged at $3.99 each & I paid $3 for the set.
The gold silk table runner was $2.00 and the oval tray was marked new priced $12.99 and I paid $5 for it.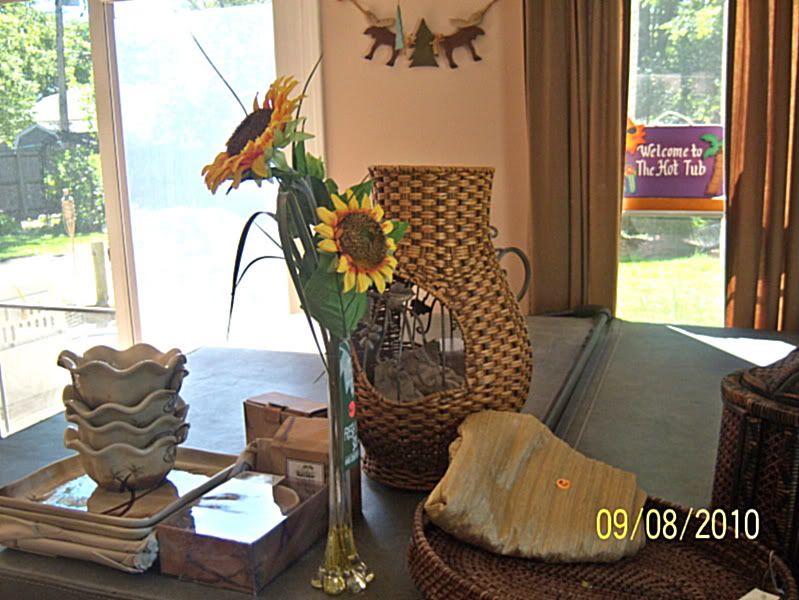 The glass vase with sunflowers had a new tag on it from Home Goods at $16.99 and I paid $4.00 for it.
Took my gdaughter back to the sale after she got out of school & she bought a smaller trunk and a glass vase of flowers and MORE sunglasses & a purse.
This chest