Fall Apple Vignettes 9.10 (pic heavy)
jeannespines
September 19, 2010
Back from vacation at the lake in MN...was Fall weather there, for sure! So I did some Fall apple vignettes here at home & added some of my vacation finds!
Here's Dollybaby vignette (she sits by my buffet):
A new hat from TS for 50 cts & added an apple pin I had in my jewelry junk:
This burgandy cup had a melted candle in it ... 39 cts. TS find ...added cinnamon stick & ready for some Hot Cider on this cool afternoon...the cup plate used to be a soap holder in bath. The basket I had on hand & added some faux apples:
Here's the buffet vignette ... apple season time. This print I got some yrs ago from Tenderhearts catalog...it's one of my favs...I need some more little faux apples for my jar. The stems in the wall basket are faux but I added some of my "grasses" from my gardens to fill it out: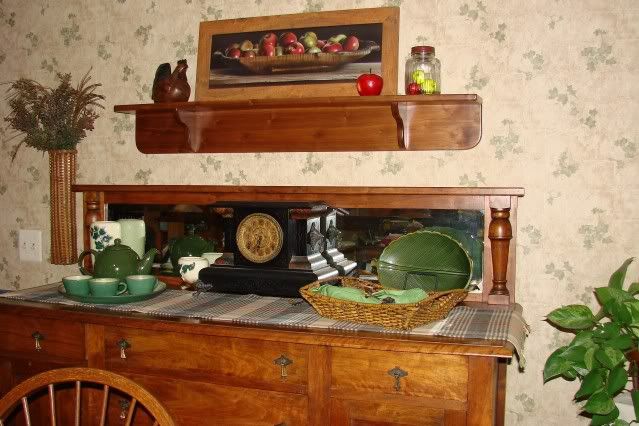 Here's one side of buffet top...used that green teapot again (color is actually darker & cups, too)...the platter & cups from GS Gabriel pottery found this Spring. That small ivy planter I found at antique store for $8 on our way home...added it to my collection of 3 Royal Copley planters: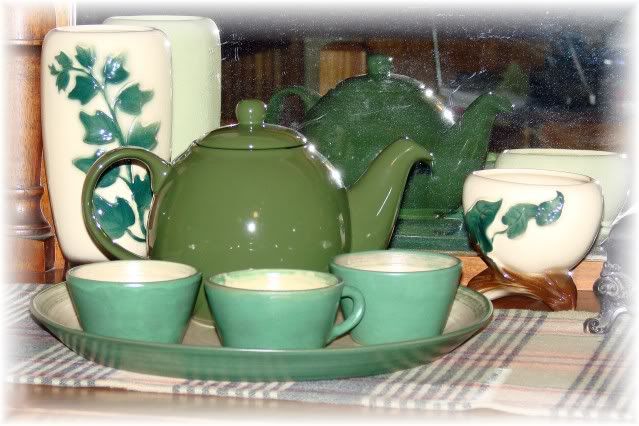 Here's other side of buffet ... basket with napkins (I need to add more...but must "iron" (ugh) some)...and a leaf plate I use on the porch:
And here's the table centerpc:
It needs "tweeking!" ... will try some apple poporrui (when I shop again) instead of glass half-marble thing-y's & would like to find a wine apple colored plate or charger instead of the wood one. Used another Gabriel pottery platter undle the hurricane glass & the "bird" is a recent $3 find at Gordman's.
And the last pics are my Fall apple vignette on the porch...my gourd apples I grew a few yrs back & painted (on top of Hoosier cabinet) with a wonderful basket I found at an antique store some time ago: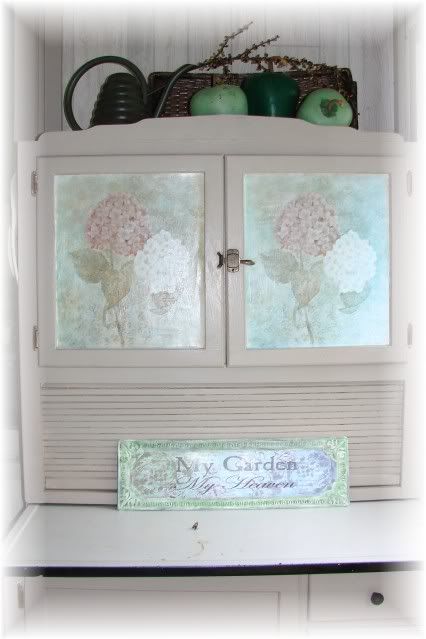 I'll add more Fall decor to the enamel top in Oct.
Close-up: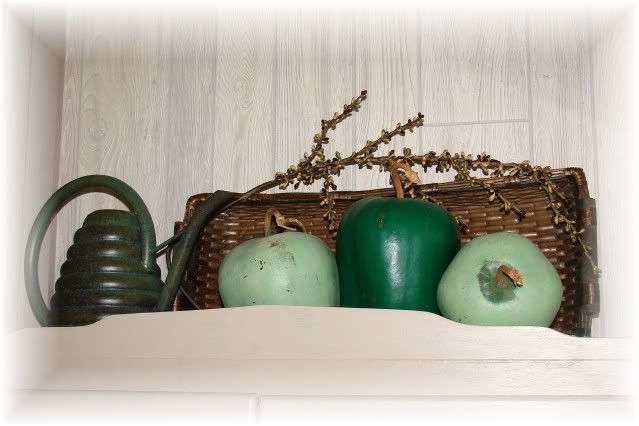 TFLookin! Jeanne S.