Additional Fall Decor & Tweaking the Other
jeannespines
September 22, 2010
A fun day yesterday shopping & lunch with friends & some good "finds!" I saw this Colonial(?) Birdhouse in a consignment shop for $12 & because of my love for old wood/barnwood, I bought it. Kept seeing my winter "sheep" that I put out for decor when snow is flying! Here it is on Hoosier cabinet:
Another view...isn't it wonderful! LOL!
Haven't worked on much Fall decor for porch yet...but am loving this birdhouse with the gourd apples up above the Hoosier cabinet (you've seen this pic on other thread):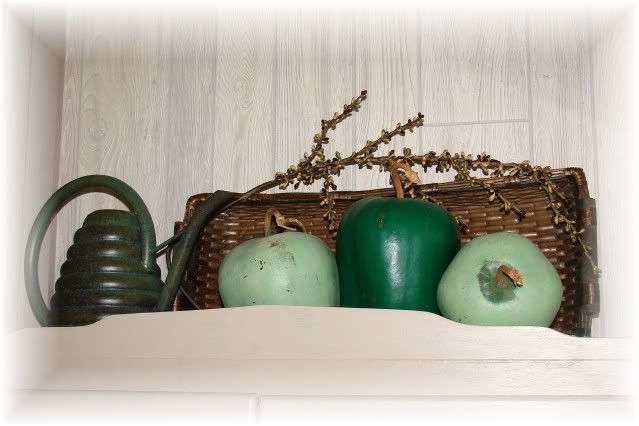 At another TS I found some "apples" in porpouri & on a basket handle...so I tweaked my buffet & like the additions:
Added more napkins to the basket & miniature apples:
JoAnn's Fabrics had Fall decor 50% off...so added a Fall grass ($4) to wall basket...gives more ht. so I like it much better also: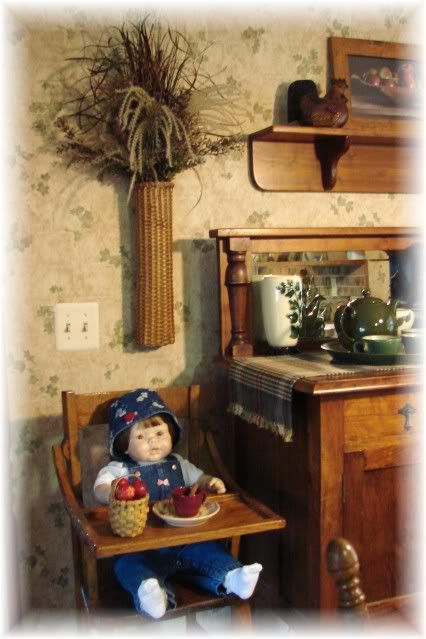 So here's the new full view of the "apple" buffet for Fall:
...and changed out the half marbles & charger on the table centerpc:
And, last pic, my other finds (white pitcher $3, green basket that had apples on handle $1, & 3 bags of popouri for 75 cts (had apple in each one for my jar):
My real bargain of the day is the beautiful 12" pot ...black with leaf designs ... clearance at Lowe's for $8.73 ... was $39! I'm a sucker for pots! This one is going on my shelves in LR. Having too much fun ...so now must stay home & get busy! Weather has been rainy/cold/crappy since we got home from vac...so mostly inside. Thanks for lookin'! Jeanne S.