Should mirror touch back splash? Design help needed
I need some help deciding what to do for the mirror above my vanity. We have a 75" long vanity planned with a single large oval sink in the middle. I would like to have a large mirror that coves the whole wall. My vanity is being custom made and so a custom frame is an option. Or no frame? In either case, should the mirror go right above the back splash or should there be some wall showing between them?
The vanity top is 36" high and the backsplash is split face travertine in 1" x 2" pieces, and we plan to use 5"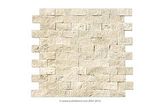 The chair rail on top of that is 2.5" thick. That means the mirror would start 43.5" high with no frame or space between the vanity or mirror. The electrical for the sconces is at 60" and I was planning to cut the mirror for them.
What do you think? frame? no frame? space between mirror and backsplash or not? Thanks!