Please help with great room height/design, prelim plans...
Hello there,
We are building a tuscan style predominantly 1 story home in So Cal and have been working on a layout with our architect. We love everything about it except the greatroom. DH and I are concerned that the 2 story room (plus angular ceiling) will be waaaay too grand and too 'cold' for our otherwise intimate feeling home. We are hoping to make the great room be 1 1/2 stories, kind of like this:
http://2.bp.blogspot.com/_-3WBViHssK8/TB_625DBF3I/AAAAAAAAEAA/JJNHrt6M O_Q/s1600/greatroom.jpg
But what we are getting is essentially 2 1/2 stories due to the mezzanine on the 2nd floor connecting the kids' rooms to our MBR. We are getting this look, which I just don't like for us:
http://www.houzz.com/photos/94128/Tuscan-Inspiration--Family-Room-and- Dining-Area-mediterranean-family-room-columbus
Without rearranging the whole layout, can anyone offer suggestions to bring down the scale. The home is going to be big (about 8000sf) but we don't want it to feel cavernous or gigantic.
Thank you,
Katherine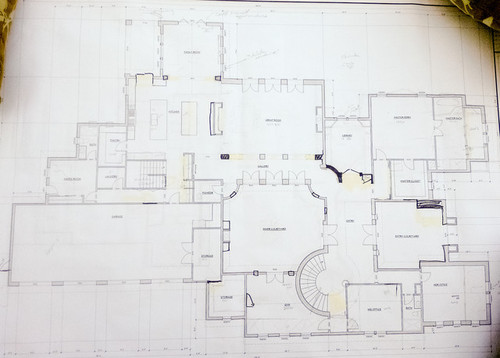 Here is a link that might be useful:
This post was edited by kath0000 on Sat, Apr 27, 13 at 18:09