Ornamental Iron Wall Hanging for Fall + Sunflower
jeannespines
September 23, 2010
Purplemoon saw some outside Fall decor I did today in-between the drizzle on the Garden Junk forum & suggested I share it here. This is an iron wall hanger I bought at a flea market in late 2007 ... last of the sale & this vendor reduced it to half price .. I think it was $15 (or may $12.50) Anyway, here it is when I bought it:
I've used it 3 yrs now...today I used faux leaves & added some stuff from my gardens ... Oregano blooms, a couple kinds of grasses ...moved the critters from my porch garden...they've been outside for some yrs now ...added a pot I painted a few yrs ago...plus a wire acorn thing-y I bought TS'ing some time ago & a dried gourd...don't have any minature pumpkins yet:
I moved an old iron wheel into the bird arbor & cut one of my giant sunflowers from the garden (they're tipping over now) & put them on a stump for the birdies:
Then used an old orange egg basket ($10 antique store find last yr), lined it & added a potted mum...so I can see it from the LR windows in the bird arbor: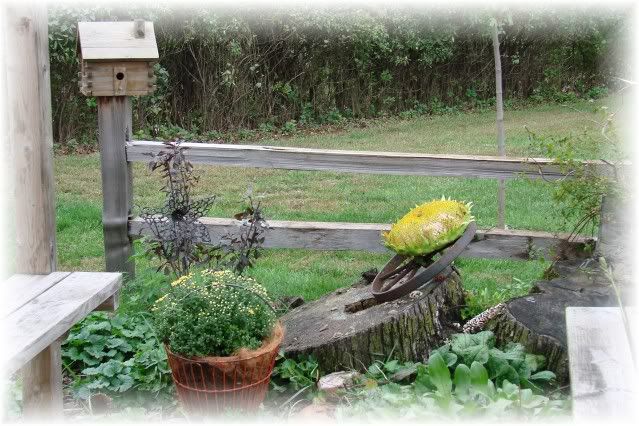 Here's a closer view:
I feel like I'm "double-dipping" here...on Garden Junk & Holiday forum. Hope you enjoy this "first day of Fall" outdoor decor! Jeanne S.