I need a professional opinion on these layout options
Hello everyone,
I am really overwhelmed with all factors to consider.. Please help me with this decision.
We have an alcove formed by two external walls and one internal wall in our master bath. We plan to install a whirlpool tub and a frameless glass enclosed shower into this alcove space.
The length of the alcove is 10'. We chose this whirlpool tub by Kohler.
The layout is similar to this one:
Here is the problem. The installation instruction shows the recessed panel for this whirlpool on the short side. In our case, the short side is going to be either against the wall, or inside the glass shower. I called Kohler customer service and they said that they do not recommend to install a recessed panel inside the shower (makes sense), but it is possible to make it on the front long side of the tub frame.
We would like to achieve a contemporary look and we will use large scale porcelain tile. I do not think that the recessed panel will look good on the most prominent surface..
Here are two options I have. Please help me choose one!
Option #1. The tub is on the left; the motor is accessible from the adjacent room through the interior wall.
The drawback: I will have to install the shower against two exterior walls then. I will have to make a raised column to hide all the pipes and valves and to not compromise the insulation.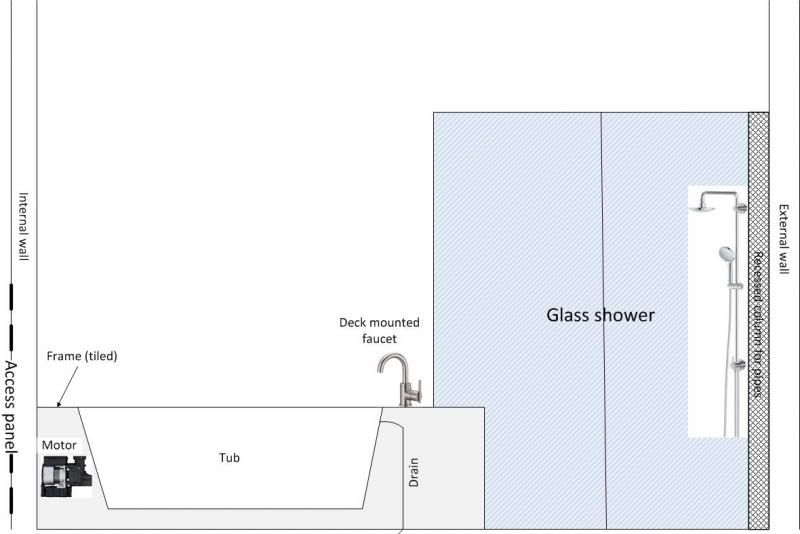 Option #2.
The whirlpool on the right side; the shower is on the left.
All shower plumbing is accessible through the internal wall.
The drawback: the access panel for the whirlpool has to be on the front side of the frame because it is not recommended to install it inside the shower.
Please help me with this! I might miss some important points...