Late Summer T'scape (before Fall so quickly arrives!) (pic heavy)
jeannespines
August 17, 2011
I bought this 'shower curtain' at a TS for $3 recently & wanted to do a late Summer t'scape before Fall arrives. It fit my porch table pretty good & loved the green of the leaves & wanted to bring a bit of summer indoors:
You may recognize the green pottery plates underneath(Gabriel Pasadena Pottery)from a GS that I've posted before & the American Atelier Pompeii Fruit salad bowls (from GWill)last yr. Flatware (old stuff) that I brought in from our camper..compote fruit glass cups (25 cts each TS) Here's a closer view:
The church GS glasses w/etched bees & dragonflies are frosty looking ...so I put napkins inside the glass so you can appreciate the beauty...glasses are very pale green & so heavy...they may really be vases...who knows?
For a centerpc I brought in a couple small Elephant Ears, a couple sprigs off an Euonymus shrub & a few Hosta stems ready to bloom...put them in pitcher behind my indoor Garden Fairies:
Keeping summer alive, I gave the fairies a 'pond' of 'bubbles' to explore. The pottery pc is also a TS find a few yrs ago & the bubbles are "Liquid Marbles" from Dollar Tree last yr.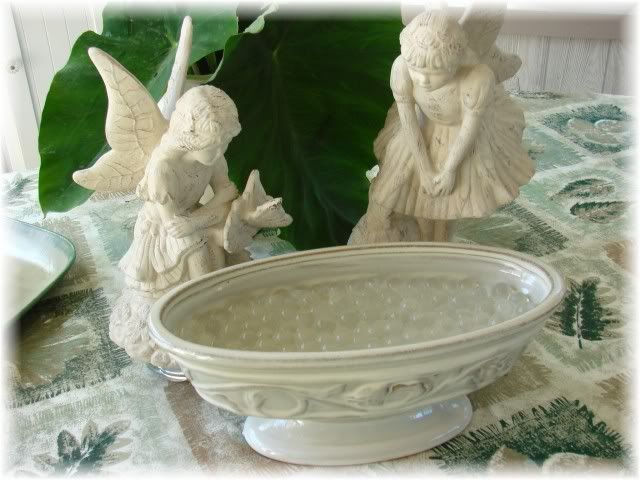 Here's a closer view...they expand in water! I used them in a clear glass jar w/a candle a couple yrs ago. Fun, uh?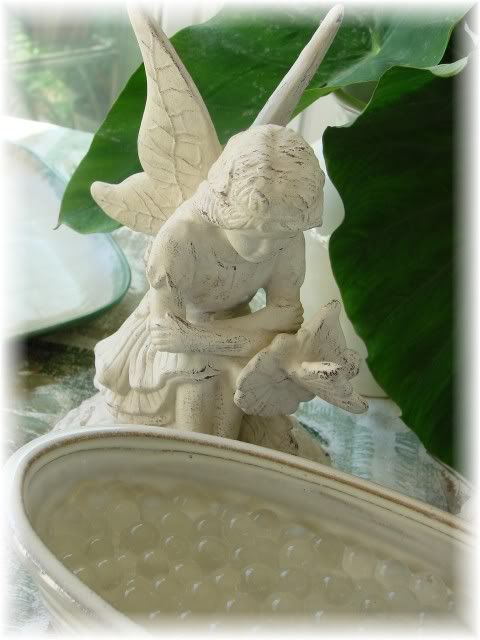 So here's the whole "Late Summer" t'scape: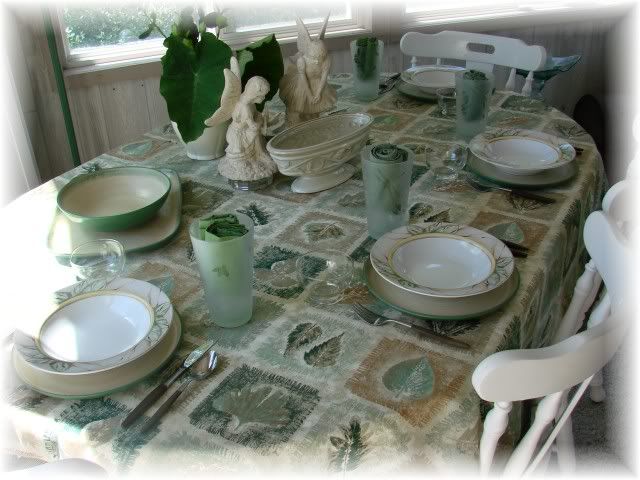 and, of course, a 'candyshot:' ;-)
Hope you're enjoying some of these 'last days of summer!' TFLookin'! Jeanne S.
The weather is in the 80's now & more bearable...late summer