Goosebumps
oldalgebra
August 22, 2010
Let me begin my saying that my middle grandchild dances to the beat of a different drummer. She's starts second grade tomorrow and she is crazy about a series of books called Goosebumps. They're not on my ideal reading list for second grade girls, but she seems to be mesmerized by them.
So tonight I had a Goosebumps Dinner.
Since she loves meatballs (aka: edible Goosebumps), spaghetti headed the menu, along with a green salad and green Gatorade.
Miss In-The-Middle also got a Goosebumps book and a dvd with a couple of Goosebumps episodes from the television series that aired some time ago. All three got a Goosebumps sketch pad (downloaded from the "official" website and a homemade (I hesitate to use the term handmade) Goosebumps ornament.
She's a hard one to read, so you don't always know what's going on in that head of hers. But when she said, "It's like it's my birthday!" I knew I'd hit the jackpot.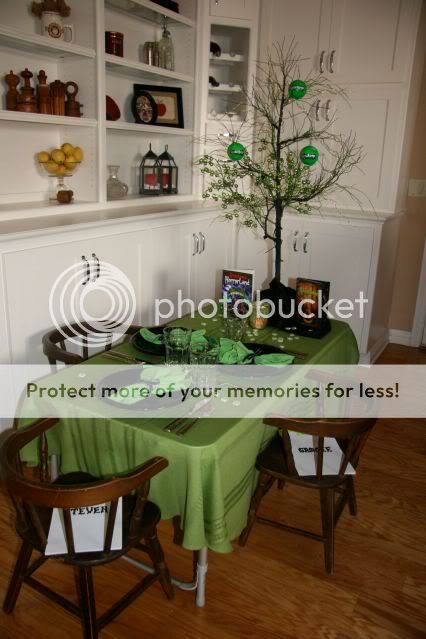 The black plates are part of a set (7 dinners, 7 salads, and 7 bowls) I got for $4 at a Garage Sale just last week.
Bowls are in another table setting at the end of this post.