Banisters: avoiding the jailhouse look
Hello generous GWers,
The stairway/loft area of our condo is giving me headaches.
According to the plan, we will have railings all around the loft -- five separate sections of spindles punctuated by newel posts and a handrail -- not including the stairway itself.
We have pondered simple metal, grouped metal, oval painted wood, glass balustrades, fewer newel posts and more elbows, or any combination thereof.
Half walls (the cheapest solution) are a possibility, but I fear blocking the light the upper windows let into the downstairs.
The condo is trying to be modern -- transitional, I guess -- with lots of open space and simple mouldings. We're empty-nesters who will probably move within a few years to a condo without stairs (and in a warmer place). The rebuild is happening because of a fire.
We are at a latish state of construction now so can't do big changes. Stairs will be carpeted, loft area itself will have wood floors. Foyer chandelier will be a cylindrical dark-metal thing (I'm not sold on it, but that's another story).
Any suggestions to help the railings look open and pleasantly unobtrusive rather than jail-like? For what it's worth, builder and his design consultant think glass balustrades are "dated" and "80s." I don't really agree, but they ARE expensive...
Thanks for your help.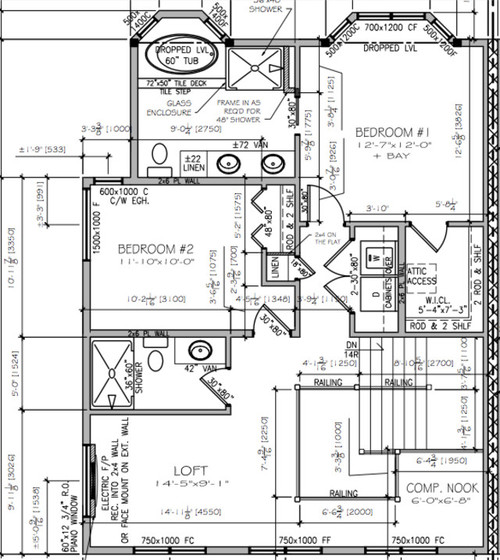 This post was edited by troff on Wed, Apr 9, 14 at 16:35