OT - A 'Barnwood Bloom' Outside Decor & More
jeannespines
August 26, 2011
Since some of us here 'definitely' don't want summer to end yet (like me), I decided to share some 'summer outdoor decor' that I've been working on the last few days...kind of OT but thought you might enjoy.
Here's my newest 'Barnwood Bloom' finished up today:
Used old barnwood board & added 1 coat of Poly,
a gas stove grate & stained glass candleholder (both TS finds), (pound in staples & a screw)
a piece of rod from a broken patio umbrella,
the 2 leaves are cut from 2 shelf brackets (DH had to cut them off for me)...
& GE Silicone II w/a marble for the flower center,
& added a couple eye screws & wire to the back so it can be hung or free-standing.
I love that stove top grate...it's almost like looking at a flower thru a window!
Here's a birdhouse DH cut out of old barnwood & we built it tog & I painted it a light gray & added some Hammered Rustoleum to the roof ... jane, I remembered you wanted to see this whenever I used that little metal 'hummingbird' that I got at GS awhile back...so here it is: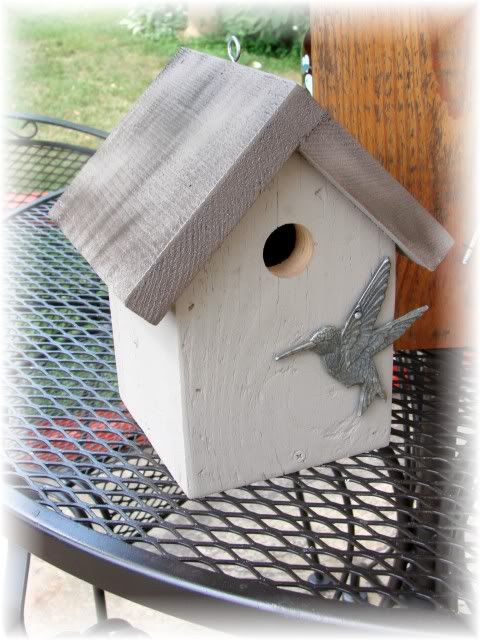 And, of course, we must also 'water' the birds...here's my $20 big, heavy duty cement birdwaterer that a friend found for me at an auction...I spray painted it w/3 colors & it is in my Secret Garden in the Pines...
And my real find of the month is "Henri Studios Two Cherubs Reading" (heavy, heavy stone materials or whatever) ... it was on sale at Menards for $29.99 ...I spotted it under the bottom shelf & DH had to help me get it up off the floor & onto a cart (LOL!)...so now it's out in my Secret Garden by the log swing...DH said to pick out my spot cause he doesn't want to move it again (nor the birdbath!)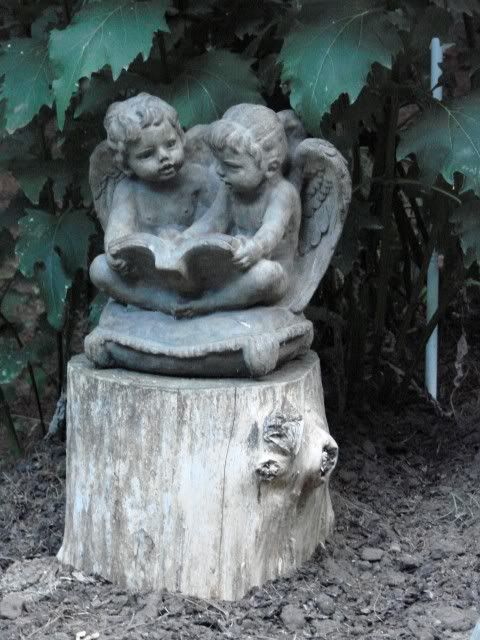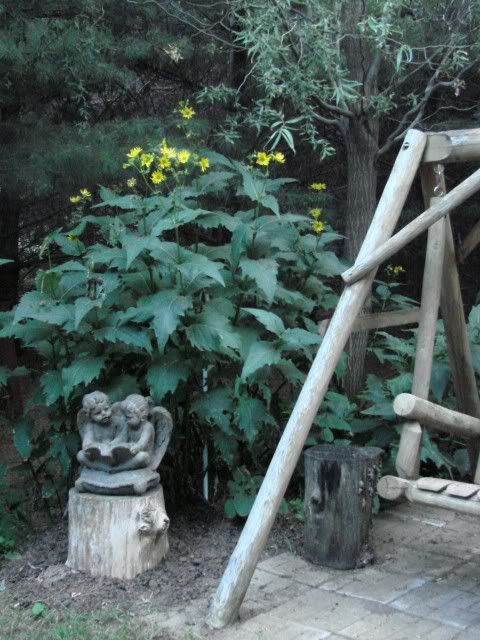 The Tipsy Buckets are looking like there (remember this is 'summer decor'...let's keep summer around for awhile!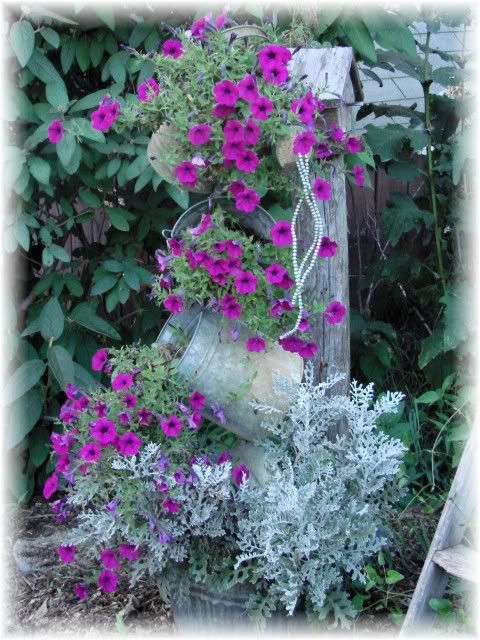 And my rope terracotta pot on the pool deck looks pretty good even with our July heatwave!
And this yr the herbs are right beside the porch door on the patio:
Ok, happy 'Outside Summer Decor' (as you may know, I post on the Garden Junk Forum here so now I've extended my self to you, Holiday-ers! ;-) TFLookin'!
And on a more somber note, hugs, good thoughts & prayers to all Forum Friends who are dealing w/Irene. Stay safe. Jeanne S.
Here is a link that might be useful: Same Cherub mold in my pics ...look at this price!