'In the Heat of the Night' (or rather,' Day') T'scape
jeannespines
August 2, 2011
I was looking up 'holidays' to celebrate in Aug. & came across 'AIR CONDITIONER WEEK' (3rd wk of Aug)...well, this is the 1st week of Aug & we've run our AC longer than we ever have before! (the whole mo. of July!) So in honor of AC week (a bit early here in IA), I set my t'scape up on the patio table while I grilled hamburgers!
Now, remember, it is HOTTER than the dickens (YET) or (STILL) ... so this isn't too elaborate...but I was thinking of you all on this forum! LOL!
My 'Miss Piggy' t'scape:
Sweet Corn season here! So who better would enjoy fresh corn than my 'Miss Piggy(bank)!" PierI luncheon plate (good sale price $1, I think) ... TS napkins & GW black bowl & bargain corn plates (I've shared all of this before)
Here's close-up of Miss Piggy & I'm cooking these veggies are not staying there...going on the grill: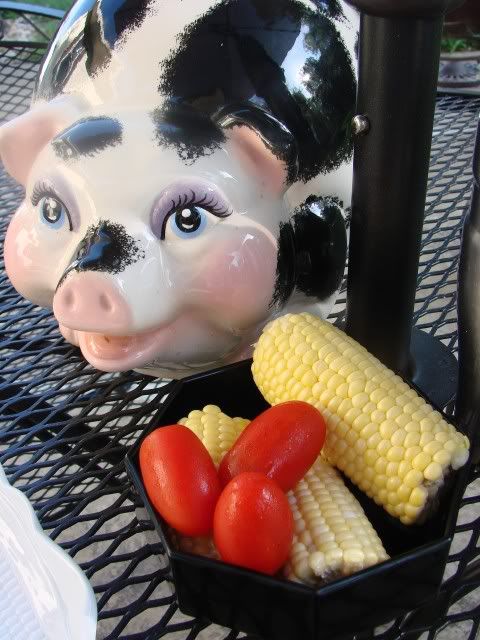 And a full tabletop view...SS Thermos mugs filled w/ice water. DH power washed our old metal patio table/chairs yesterday & we both spray-painted them with Rusteoleum 'Walnut' (almost black) paint...they look like new again, don't ya think!
Well, Happy AIR CONDITIONING WEEK!!! LOL! Jeanne S.
(we didn't eat outside...90's & high humidity)...Oink! OINK! (Miss Piggy is over 20 yrs old...a Christmas gift from my DH).