Late Summer Tablescape on Porch for Two
jeannespines
August 27, 2010
Well, we've had some beautiful "less humid" weather this week...so have been enjoying the gardens & the porch. In June I shared the Gabriel Pottery that I fell in love with & bought a garage sale...remember this pic:
Well, I added 4 bowls while on a day trip with some friends...got 4 of these at GW for $1 ea...love 'em:
Thought they would look great with the green Gabriel! I looked them up & they are called cereal bowls (but looks like they'd be good for other things..the placemats are "outdoor" ones on sale at Kohl's (so you enablers having me ckg the linens everytime I go in the store now...LOL).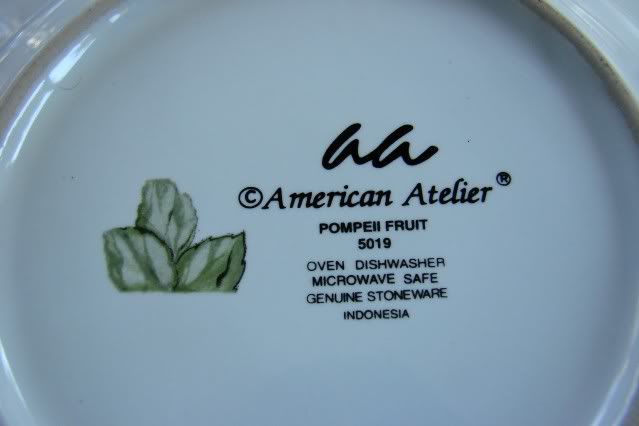 Here's a full view of the "Summer Table for Two" (hopefully, we'll sit there tomorrow night!):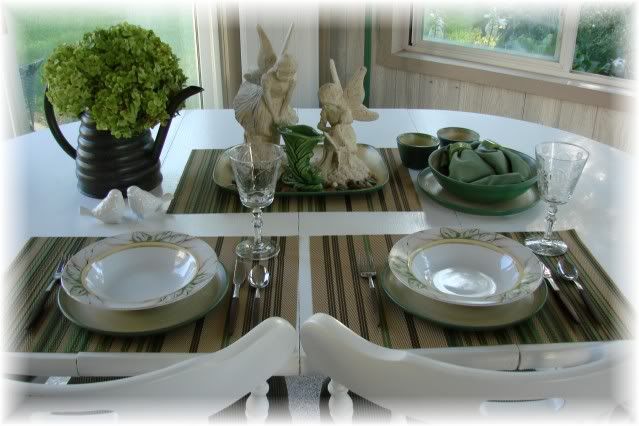 Here's a close-up of the centerpc...I hope you noticed that watering can in the full view cause I've got more to tell about it. I took the garden angels from porch decor & also the little green vase..they're sitting on pc of Gabriel pottery. Napkins & holders are also a sale buy from Kohl's this past yr (since I joined the Holiday Forum!)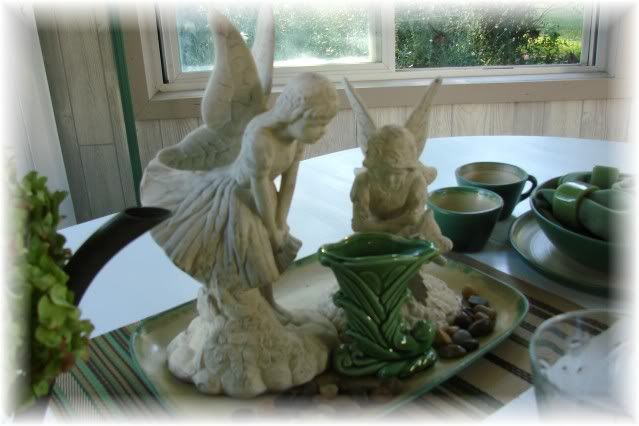 And that watering can I decided to use today for Hydrangeas for centerpc. Well, I got a bit of a surprise as I carried it to the garden full of water...this little guy came crawling out the spout! Cute, isn't he!
Sweet little tree frog...I like him better when he changes to a "green" color...guess he would of if I left him alone in my t'scape!
Well, hope you've enjoyed my "Late Summer for Two" ...it's been good to get outside in bearable weather & to enjoy the porch! Here's my Farmer's Market basket for tomorrow...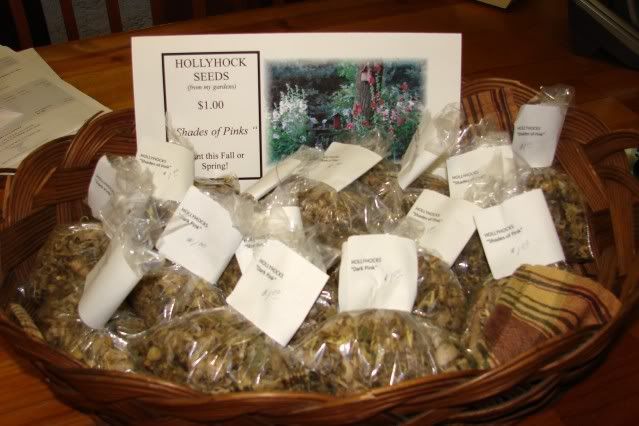 Thanks for looking! Jeanne s.