Master bath layout help (pic attached)
We recently purchased a 20-year old house and one of our home improvement projects is to redo the master bath to be more functional for us.
Currently, about 1/3 of the floor space is taken up by a large whirlpool tub that we never use. This leaves space for only a small corner standing shower, small vanity, and confined toilet space.
Our plan is to remove the whirpool tub, and with the additional space, accomplish the following if possible:
- make a large standing shower (can accommodate 2 people)
- add a double vanity
- add some storage space for daily toiletries
Currently the main constraints in terms of layout are the door (middle of south wall), window (middle or north wall) and baseboard heat (middle of east wall). We are willing to move any of those if it helps with optimal layout.
Thanks in advance for your help.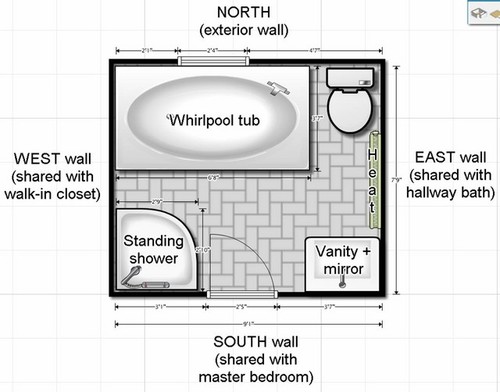 This post was edited by petesamprs on Wed, May 29, 13 at 16:20