Dollbaby Celebrates Summer ...Watermelon Day
jeannespines
August 7, 2011
Well, Watermelon Day was actually Aug 3rd so we're a few days late here...but I found this wonderful outfit for Dollbaby at one of my fave consignment stores for $5 & now I can justify spending more because I can pass it on to my Gr'GD! LOL!
Here's a close-up of Dollbaby ...note the little watermelons hanging from the bow from the top of the hat...too cute! And the packet of seed was from St.Vincent DePaul ... 3 pkgs for 25 cts...I bought 21 pks because I loved the illustrations on the seed packs & they were still 2011 seeds!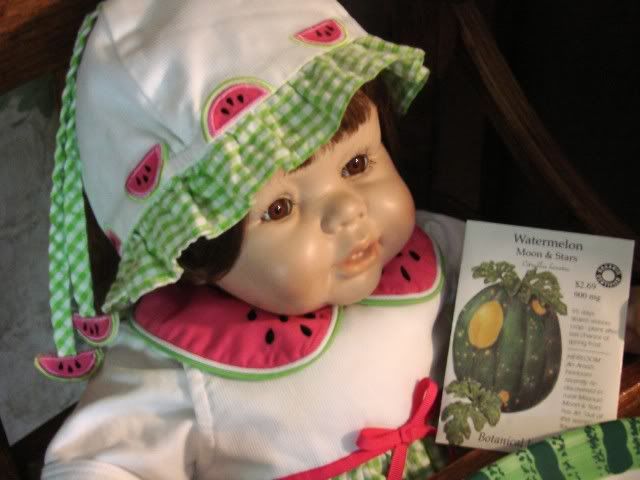 Here's another view & you can see part of the watermelon platter I got for Dollbaby ... TS or CS earlier in the yr...perfect for her tray!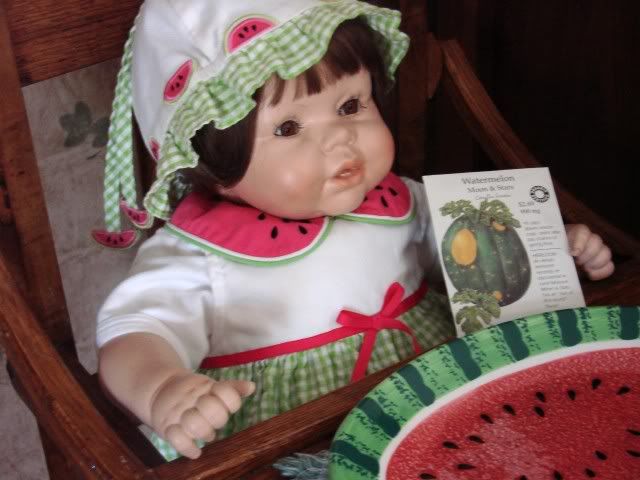 And here's the full view...green checkered napkins 4 for recent $1 bargain at a CS called "Stuff" ... pink depression glass & her little fork from last yr in MN at CS. She is all decked out with a hat, dress & even matching checkered panties! Had some thong shoes for her but she wouldn't keep them on her feet...so they're in a bag for Gr'GD! LOL!
Hope you enjoyed...hope to change out some more summery decor ...but now must get back outside to paint some more siding boards (before they go up on the house)...TFLookin'! Happy belated Watermelon Day! (& they are very yummy right now!) Jeanne S.