Red, Red, Red for July T'scape! (pic heavy)
jeannespines
July 26, 2011
On July 4th, I posted Dollbaby & my buffet decked out for the holiday (link is below in case you missed it)...didn't get a t'scape done so wanted to do one yet before I change things in Aug (hopefully). And summer is so, so busy...so I wanted to share at least one t'scape a month! LOL!
So, you know I got my new dishes last month that we are using for every day ones now...thanks to 'Enablers 'R Us.' RED! I was seeing 'RED!' I didn't own a 'red' dish & I fell for this American Heritage Collection by Sonoma...well, my patience pd off & I did really good w/coupons & percent off deals!
Here's a placesetting...I used 'jelly jars' w/handles for the glasses & the Cambridge red flatware I just got a TJMaxx the other day for $12.99 for 16 pcs set (which of course, I may have been influenced by t'scapers on this forum who always have such beautiful flatware in diff colors & patterns!!!
Here's the other placesetting so that you can see the salad plates...which is my fav in the set..the placemats are 'bamboo' & were a TS find for $1 each..also the napkin rings look like 'bamboo' & they were a GS find, too:
Here's what I used for a centerpc...a TS basket I got in the past few mos, red cotton napkin (4 for $4) at TJMaxx...I love the 100% cotton ones! And these birdies I think I showed you in the past...ummm, bargain from somewhere!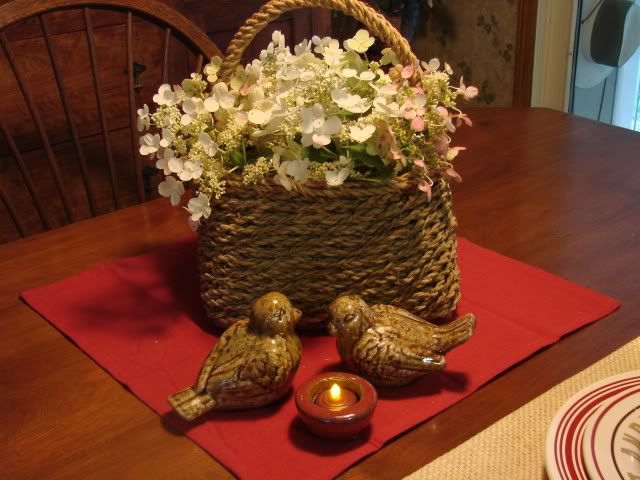 And I re-used that little red pottery candleholder & faux candle...another view...went out & cut the Hydrangeas ...as I couldn't see any other flowers that I thought would work:
Here's full view of the table: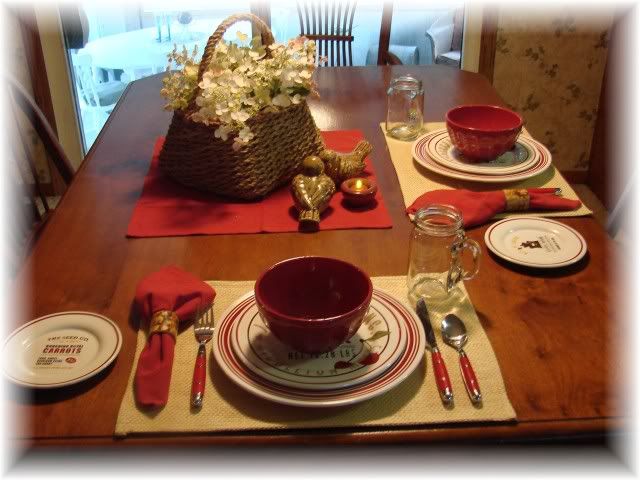 And with buffet & Dollbaby:
Buffet top:
Buffet candles & basket: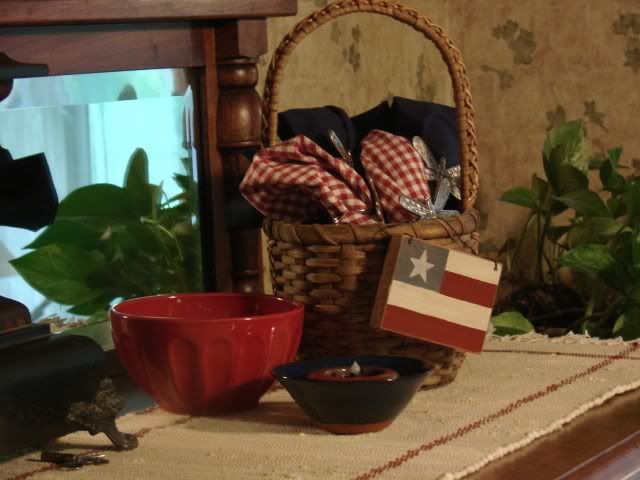 And, of course, had to try a 'Candyshot'...LOL!
The weather is still miserable...we had a reprieve for one day & some rain a couple times...so hard to garden...but the weeds love it! Also DH & I are still working on siding the house...slow but sure. Hope your day is a good one! TFLookin'! Jeanne S.
Here is a link that might be useful: Dollbaby's 4th of July & Buffet Vignette