Dollbaby's 4th of July & Buffet Vignette (pic heavy)
Happy 4th of July, everyone! Hope you've had a great weekend & enjoyed the time w/family or friends! God Bless those who serve to keep our freedom!
Today I stayed indoors some & finally had some quality time with Dollbaby! She was a bit miffed since she was still dressed in her Spring outfit!
So here she is with her summer/July 4th placesetting: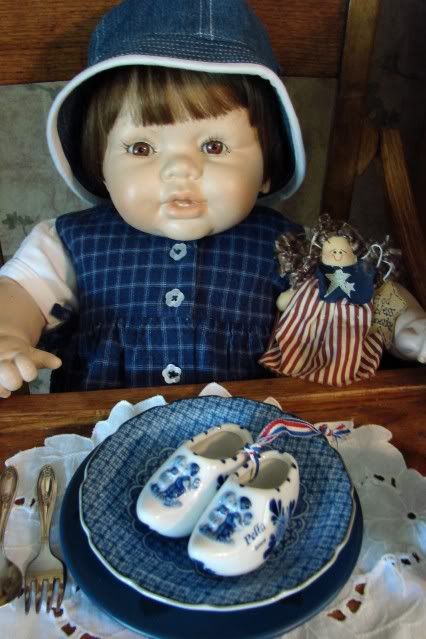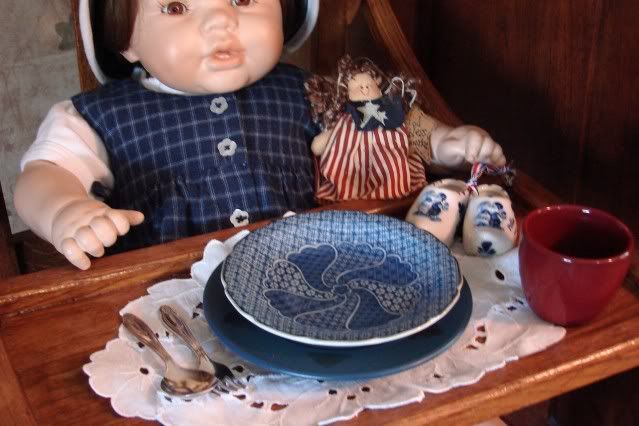 Those little ceramic shoes are new & she wanted them used on her tray for July 4th...well, they're 'blue' & they have a RW&B ribbon! LOL! DH & I camped last month in So IA & we made a day trip to Pella...a beautiful Dutch town...here's a close-up of the Dutch shoes:
The little Americana doll she is holding was a clearance find at HLobby yrs. ago.
Here's a full view...everything in Dollbaby's vignette are TS finds! (thanks to the 'Enablers R Us' on this forum!)
Since I did get some new dishes for everyday use (that I've previously shared on here), I decided to use the pitcher & a 'canape' plate (never heard of that term before)...here's the Wikipedia def: A canapé is a small, prepared and usually decorative food, held in the fingers and often eaten in one bite.
The striped star bowl is an old TS find some time ago, too.
And, here's a basket of napkins I fixed up for the right side of the buffet...yup, used those GS 'dragonfly' rings!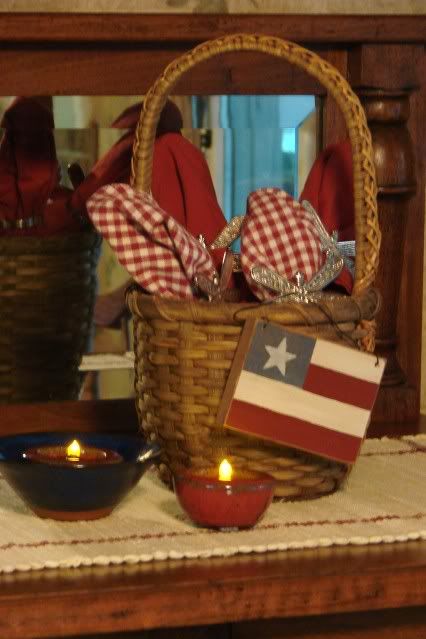 ...and some little faux tealights in ceramic candleholders & pottery bowl. Here's the full view...I did buy a new runner awhile back: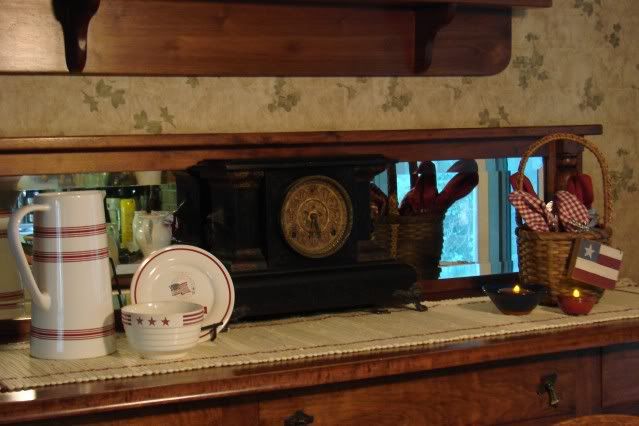 And the beautiful shelf above the buffet (made by DH) that I've shared many times on our forum has an old 'The Flag' print (from my Mom) & just a fav print of a little girl that I bought some yrs ago...candlestick, bird & teapot are more TS or GS finds!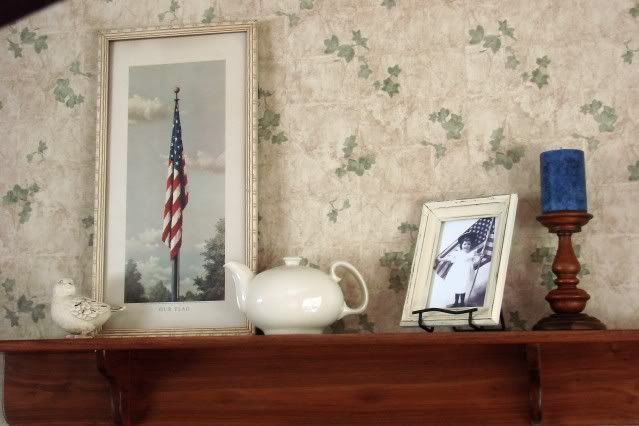 Hope you enjoyed...now back to the outdoors! TFLookin'! Jeanne S.