Need your recommendation on this plan
pitterpatter94
April 3, 2014
Hi, Would really appreciate any recommendations you have on this house plan we have chosen for our wooded, lake lot, that is on a steep slop in the back. The house will be facing the west but will not get a lot of afternoon sun because of the high hill across the cove in back. This is in the Saint Louis, Mo area.
We closed on lot this week and we have found our general contractor. I just talked to the county and we can order plans off the internet as long as the foundation meets the county codes. We do not need a stamped copy. Thrilled with this. We have spoken to Max Fullbright in Ga about a house plan he has on his web site:
http://www.maxfulbrightdesigns.com/Butler_s_Mill_Cottage.html
Here is the info from the web site:
Total living area: 2,333 sq. ft.
Main Floor: 2,333 sq. ft
Bedrooms: 3
Bathrooms: 2 1/2
Width: 64'6" Depth: 65'8"
Exterior Walls: 2x4 or 2x6
Ceiling Height: 9'
Other: Vaulted Screened Porch
Standard Foundations: slab, crawl, basement
Other Features: Corner Lot, Optional Lower Level, 1st Floor Master Suite A perfect blend of stone, shake and horizontal siding on the exterior of this home creates a traditional feel from the roadside. The family room comes with a fireplace and is open to the dining room allowing you to easily communicate throughout the main living areas of the home. A vaulted screened porch on the rear also has a grill deck so you can cookout and enjoy the outdoors at the same time. The master suite has his or her closets on separate sides of the room and comes with a spacious bathroom so you and your spouse have plenty of space.
Max Fulbright,is the nicest person, with a great southern accent, and will work with us. I would love your feed back before I hit the order button. I will be charged an additional fee for my changes that include:
1) Making the garage a little wider and longer a few feet to handle our SUV's
2) Change the great room to a cathedral ceiling. Our general contractor makes his own beam that are beautiful.
3) Square off the kitchen corner that is angled. I want the appliances rearranged but not sure how.
Thank you for all of your feed back.
pitterpatter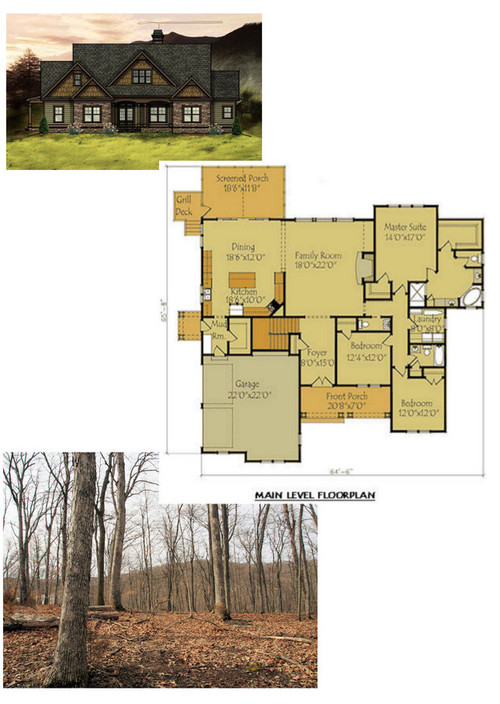 This post was edited by pitterpatter94 on Mon, Apr 7, 14 at 9:20