Just Checking Back In
lynninnewmexico
July 7, 2010
It's been a busy Summer for me already. We've just gotten home from our 11-day annual vacation back to visit my family in Michigan. I'm slowly getting back into my daily routine after these many lazy days of morning teas with my 4 sisters, mom,DD, 3 SILs and many nieces; followed by shopping and lunch trips into the beautiful little lakeside town with them while the guys golfed. And then long beach afternoons with my entire clan. Now cleaning, laundry and bill paying seem very depressing, so I'm hiding out here today instead ;^D
I haven't done any tablescapes at all lately. Our dinner tables at the cottages ~ six picnic tables for 45 every evening ~ were lucky to get paper plates, paper napkins and plastic cups . . . but the food was wonderful, being a family of chefs and foodies. Did I mention that I now need to go on a serious diet because of it all?
Anyhoo, I'm STILL working on my game-inspired table (hanging my head in shame) but am determined to get inspired again here. DD is spending an extra 9 days with her Michigan cousins, so DH & I are playing empty-nesters for the week. Perhaps a nice romantic table for two should be my next table?
Anyhoo, it's good to be back. I'm having fun looking at all the great tables you've made lately.
Here's a couple pics from last week at the lake (Lake Huron).
Lynn
Our cottage compound's private beach: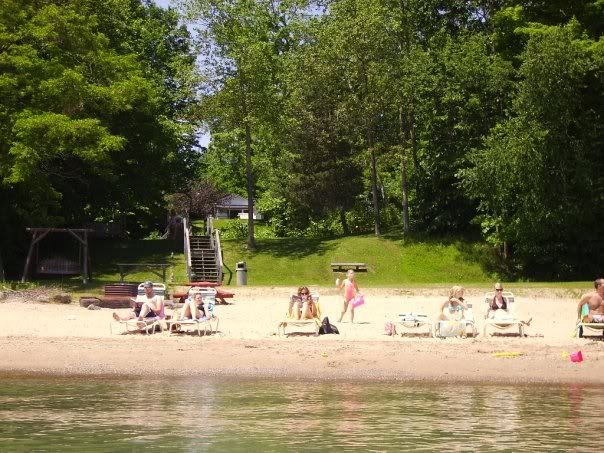 Pretty home in that picturesque town. I can only imagine the kinds of tablescapes I'd make if I lived here!