Small bathroom: contrast wall, splashback, or keep it simple?
We're just about to start our renovations and I'm having trouble deciding what to do about the tiling in our master bath, which is really more of an ensuite in size.
I've attached a 3D drawing of the basic layout of what will be in there, however the planned colours are totally different.
What we have definitely decided on:
- white gloss 12" x 24" rectified wall tile - this has a subtle greyish undulation through it, so has a bit more dimension than a plain white tile
- pearl grey lappato 12" x 24" rectified floor tile - a pale, warm grey
- wall-hung 36" vanity in dark neutral gloss woodgrain, fingerpull drawers, white polymarble top
- Hansgrohe Talis S basin mixer and levers for bath and shower, Hansgrohe 7" Raindance shower head
There will be a niche (size as yet undecided) along the long wall of the shower/bath.
Room has loads and loads of natural light from a skylight.
My questions relate to the tiling, and what various options might do to the look and the perceived scale of the room.
1. Do I keep all of the walls in the gloss wall tile (including niche and splashback), or do I attempt some contrast somewhere?
2. If yes to contrast - where? Splashback? Niche? Entire vanity wall/back of shower?
3. If yes to contrast - what? The stone finger tiles? The light grey wall tiles?
Attached are the 3D mock up of the floor plan (just for fixtures; ceilings are higher, toilet roll will NOT be next to the bath, lol) and a pic of the tiles - the finger tiles are not a definite, and I probably lean towards not using them at the moment. Not sure if you will be able to see the subtle variation in the colour of the wall tile.
Thank you for your help!!
(apologies for the similarity of this to another thread I have posted but to me the questions "feel" totally different - renovation brain!)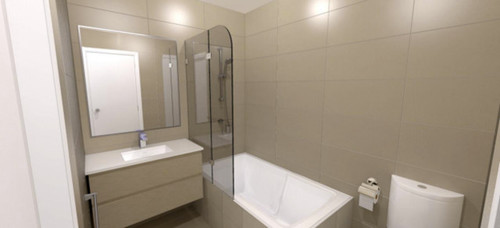 This post was edited by dibdot on Sun, May 18, 14 at 4:55