Lot depth / layout feedback
We are finally getting to the point of purchasing a lot and starting the design process. We are looking in a small subdivision of 25 homes and lots averaging around 3 acres. We've had our eye on one particular lot for almost a year and were deflated yesterday when we found it had a purchase agreement signed last week. The market is definitely heating up, and we can't wait around.
The lot next to it is a great second choice with the benefit of a 10 mile hilltop view from the front porch, but I'm a little nervous about the lot depth. The lot is just under 3 acres with the entire back and one side of it wooded. The open space that we can build on is around 320' wide and 170' deep. We're planning a two story home around 3500+ sq ft with side load garage... not a monster house.
I laid out a model last night with the following:
- 60' set back from road to front of house
- house dimensions around 65' wide by 40' deep
- garage off to the side and would add to that width by about 35'
- pool in back yard (maybe offset to the side)
- eventually an outbuilding/guesthouse off to the side
- leaves a backyard around 60' deep assuming pool is offset
We are meeting with the developer and architect this weekend to discuss building placement before we move forward on a purchase agreement. That said, I really trust the common sense feedback of this forum, so wanted to see if anyone had thoughts before our meeting Sunday.
We've moved a lot and lived in several homes, so this is a long term build for us. Just want to make sure that the lot is great (not good) for what we're planning. If anyone has similar dimensions or thoughts on the layout, I'd love to hear your feedback. Below is a very rough layout to scale that I put together to help visualize.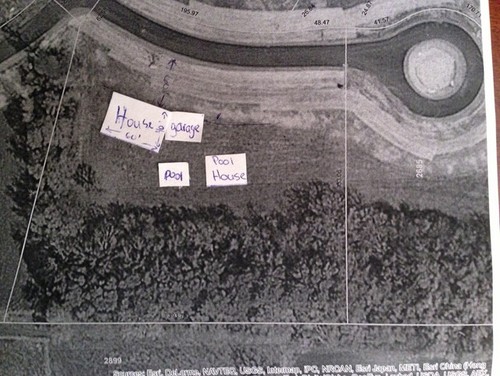 Here is a link that might be useful: Lot Layout Idea