finally...our completed masterbath! many pics
treasuretheday
May 15, 2012
Just over a year ago, we decided it was time to transform our masterbath from a plain and pathetic 1980's white box into our own private sanctuary. We had a few specific goals as we started out, most importantly to: (1) create a separate water closet, (2) split our shared vanity into His and Hers, (3) bring some architectural interest into the room and (4) layer the lighting to create ambiance. My husband and I designed the room ourselves so it is particularly satisfying to see the end result.
We acted as GC throughout, hiring many of the skilled trades from our connections as commercial property owners. My husband did much of the work himself, including virtually all of the electric, a full Kerdi shower and Ditra floor. There were numerous complications and setbacks that caused the project to grind along slowly. My husband was only half joking when he sometimes threatened to drywall off the doorway and forget that the room existed.
We still have a few details to finish (some missing crown molding on my cabinets, towel cubby shelves, etc.) but I just couldn't wait any longer to show you our space, to thank you for all of the help along the way, and to offer to answer any questions you may have.
First, the before pictures: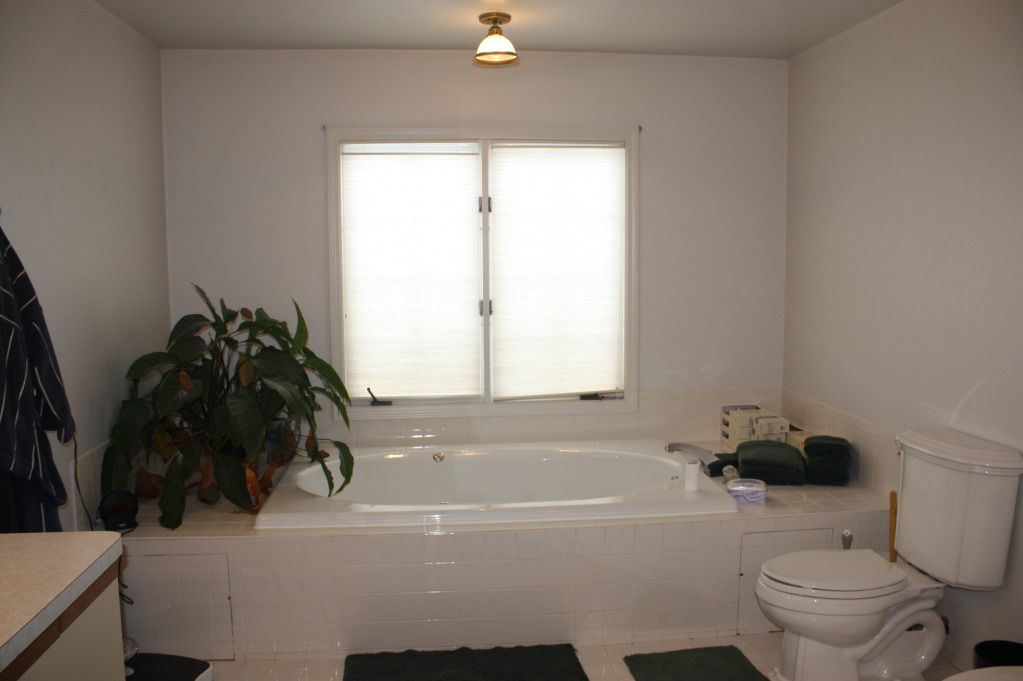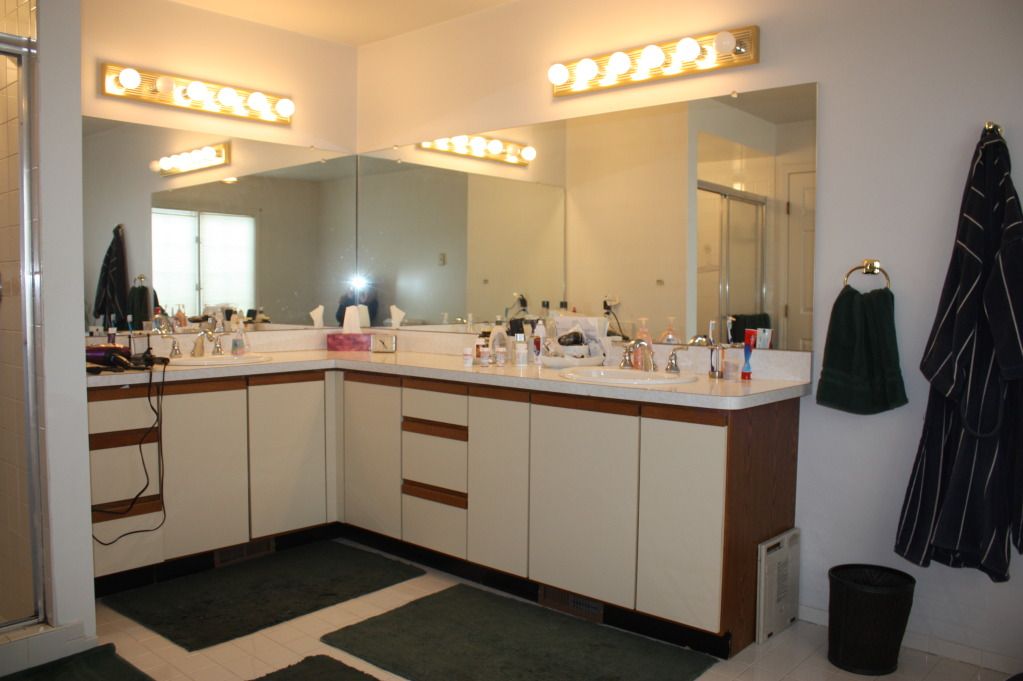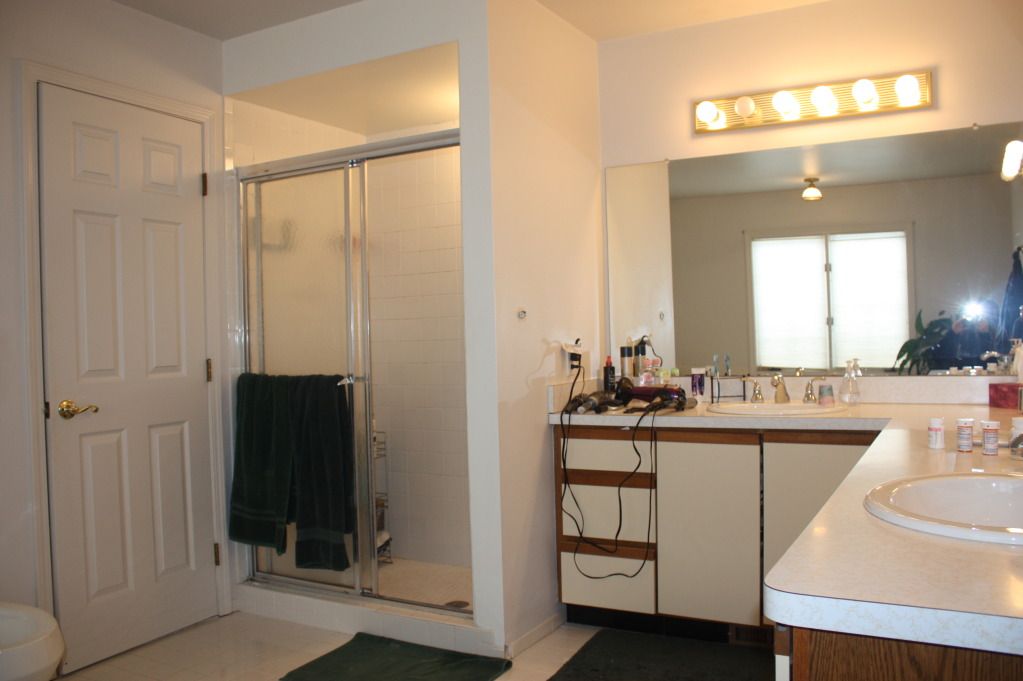 So, that was our bathroom for nearly 19 years. Lots of space and potential... just waiting.
We gutted the room, taking it down to the studs and floor joists. We replaced a pair of casement windows with a pair of double hung windows to allow us to open windows while retaining our privacy. Every single water supply and drain was moved. I lost count of the number of electrical circuits but there are at least eight dimmer switches in the room now! Along the way, we decided to expand the water closet to allow for a sink by taking out our hallway linen closet. (This linen closet is now being built in an adjacent guest bath as part of our next bathroom project!)
I apologize for the many pictures to follow but, once I started, it was hard to stop!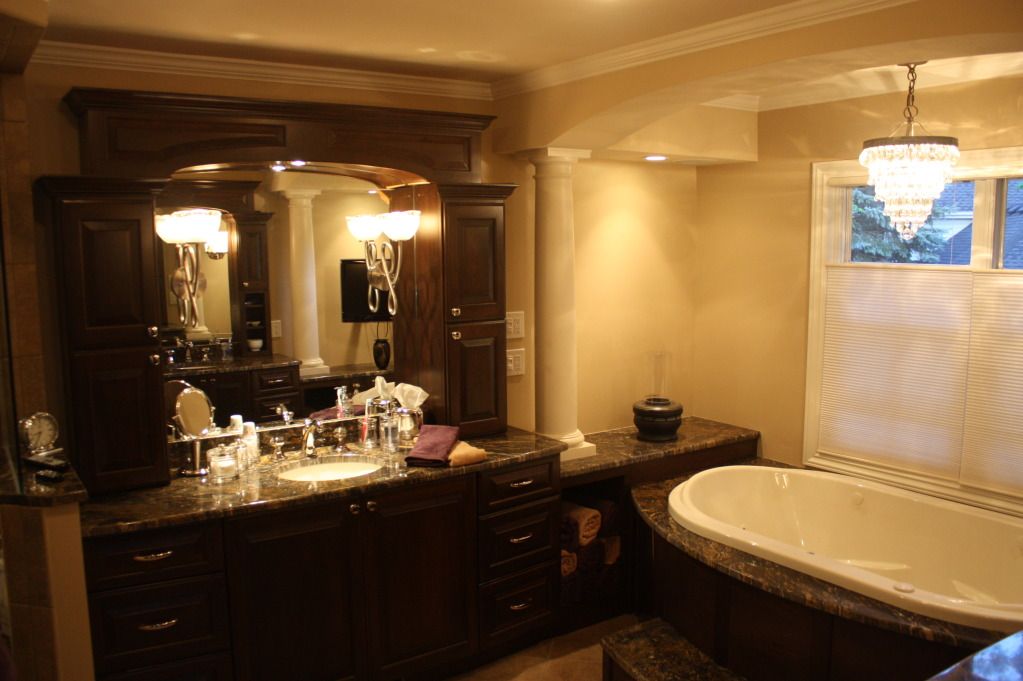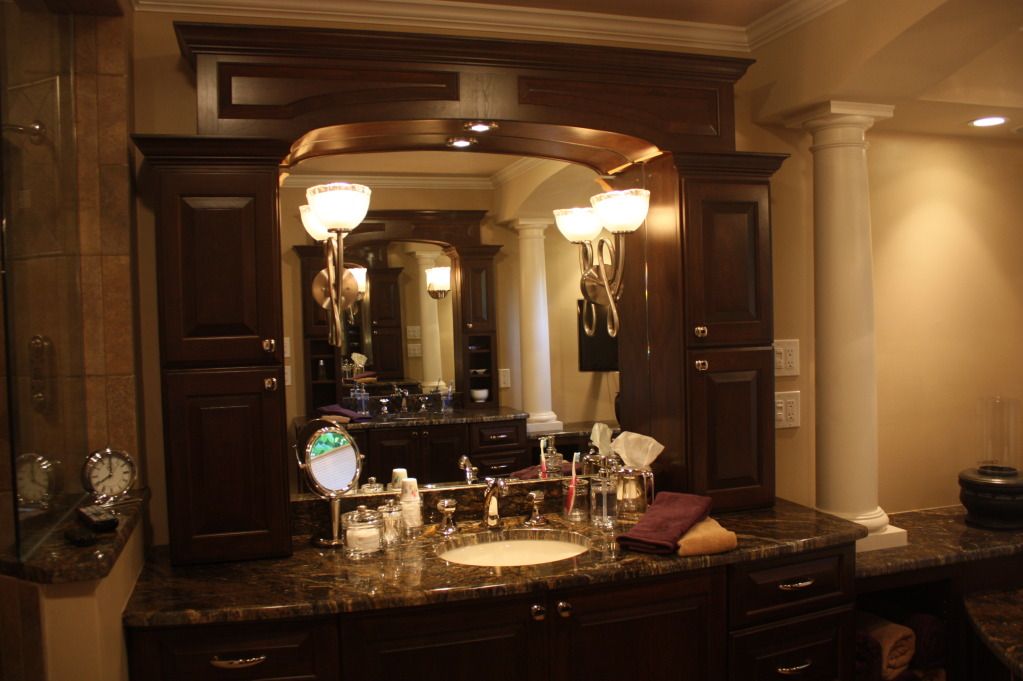 Eliptical arch and columns as architectural details: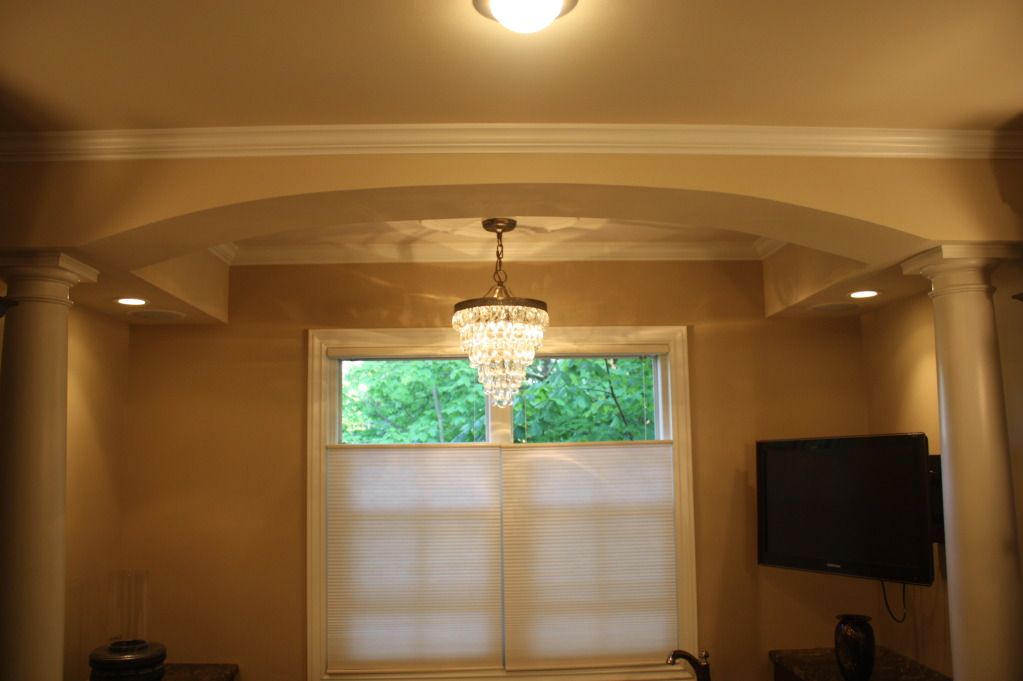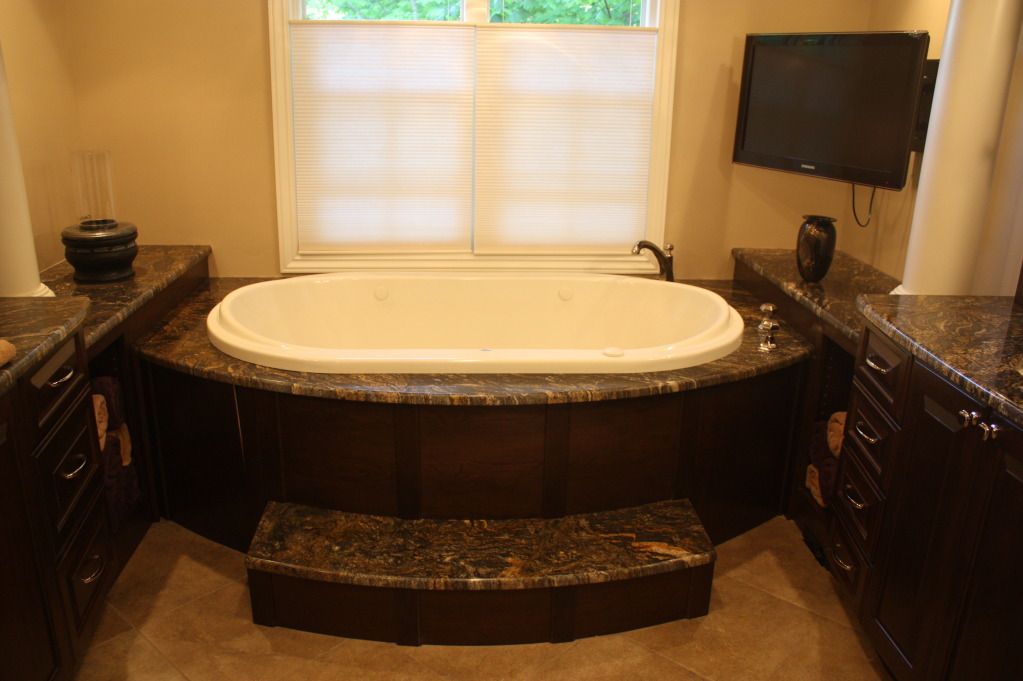 Hers Vanity: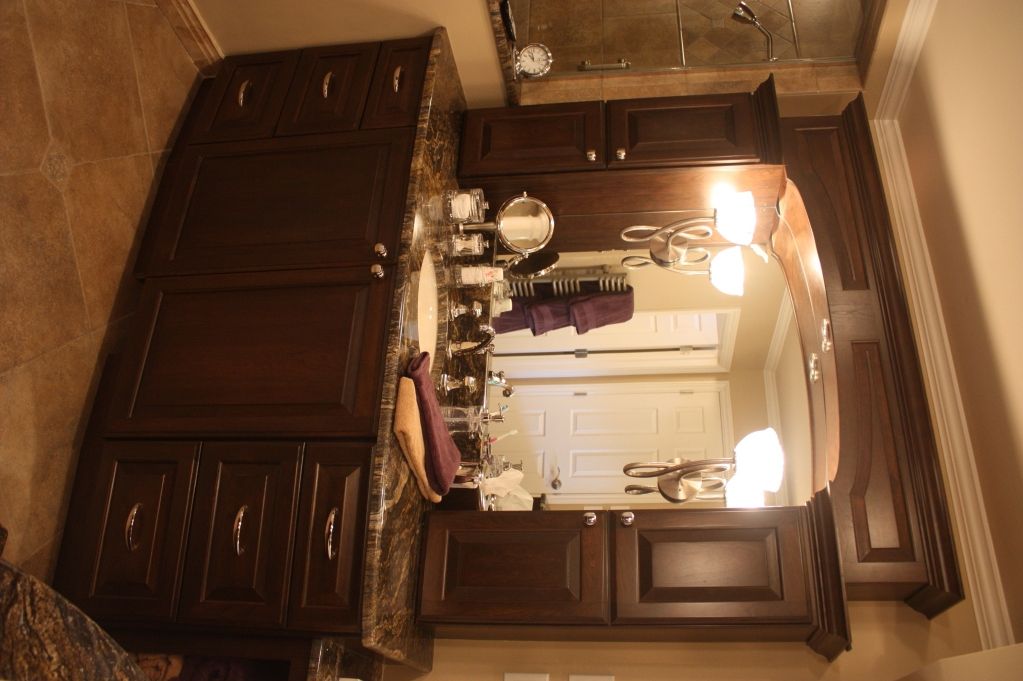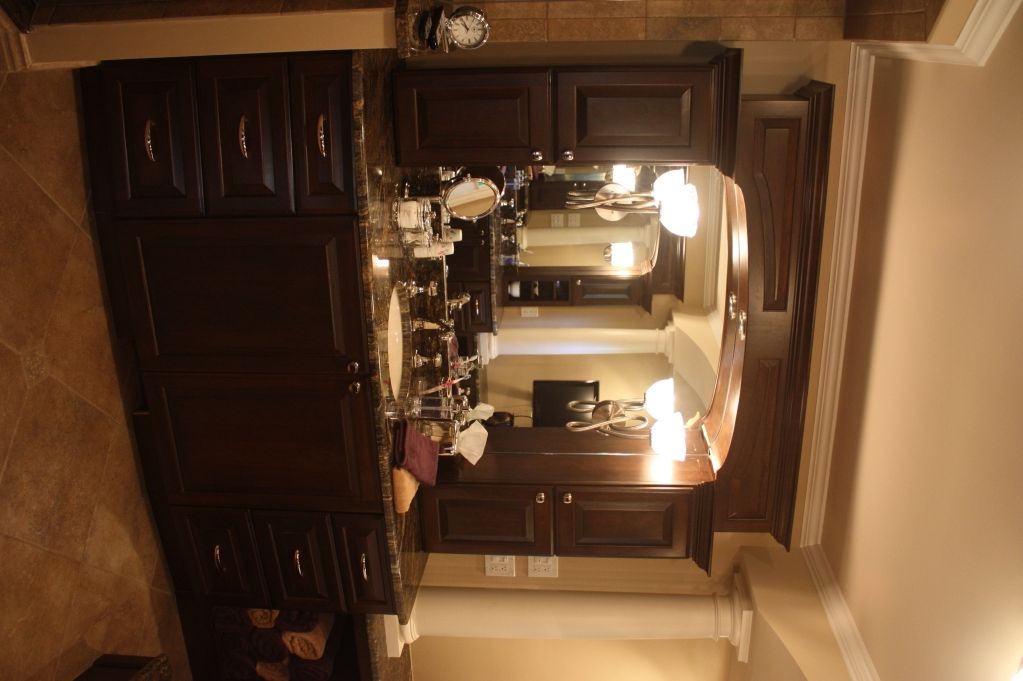 His Vanity: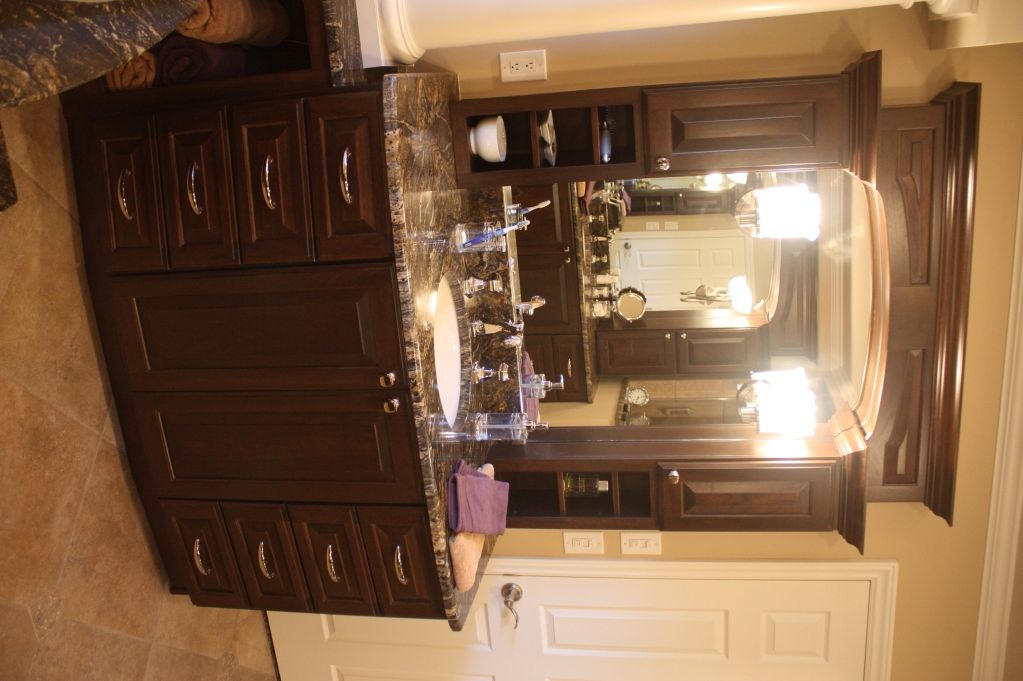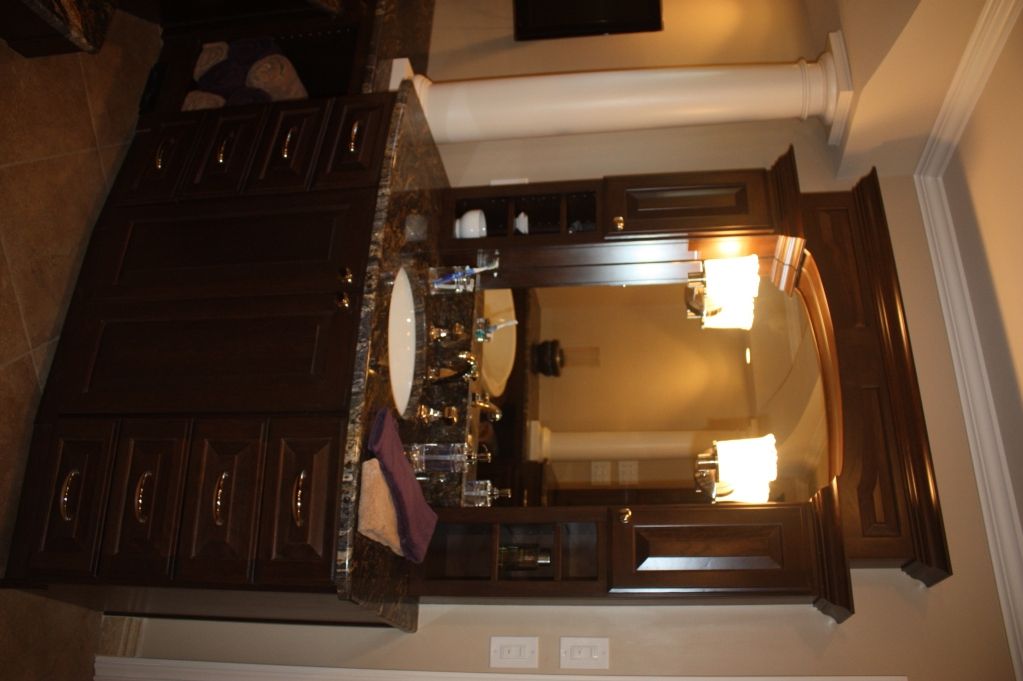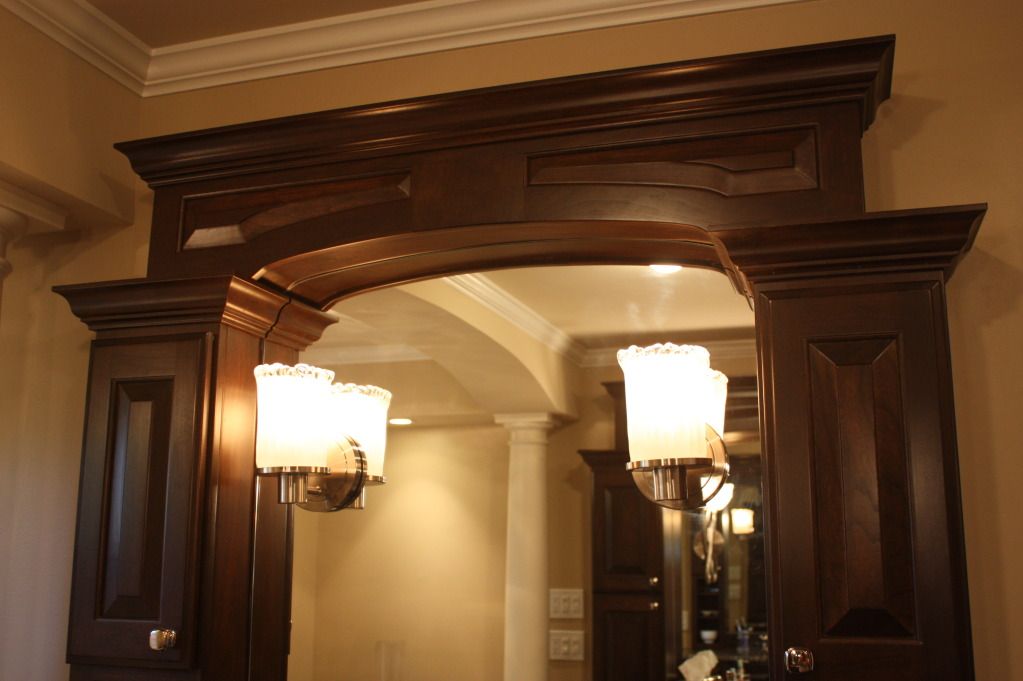 Water closet & vanity: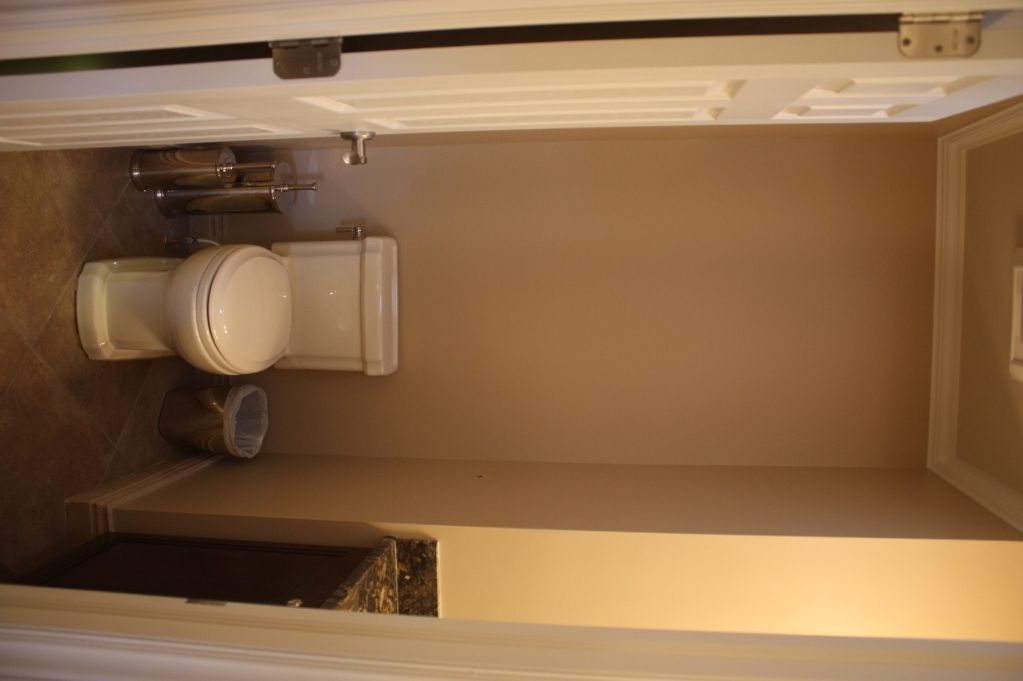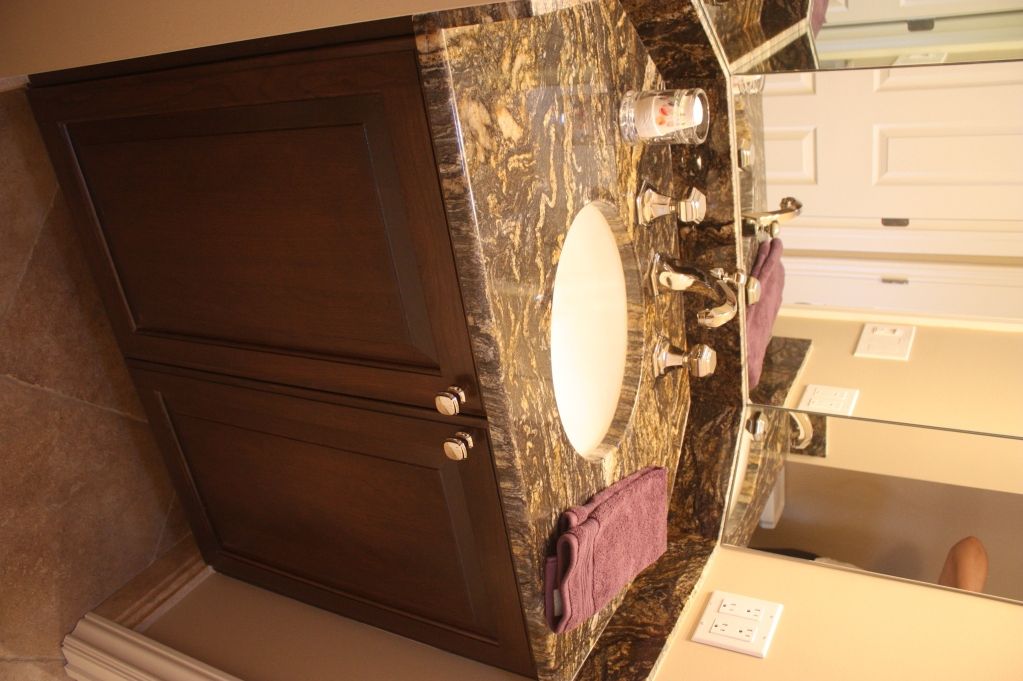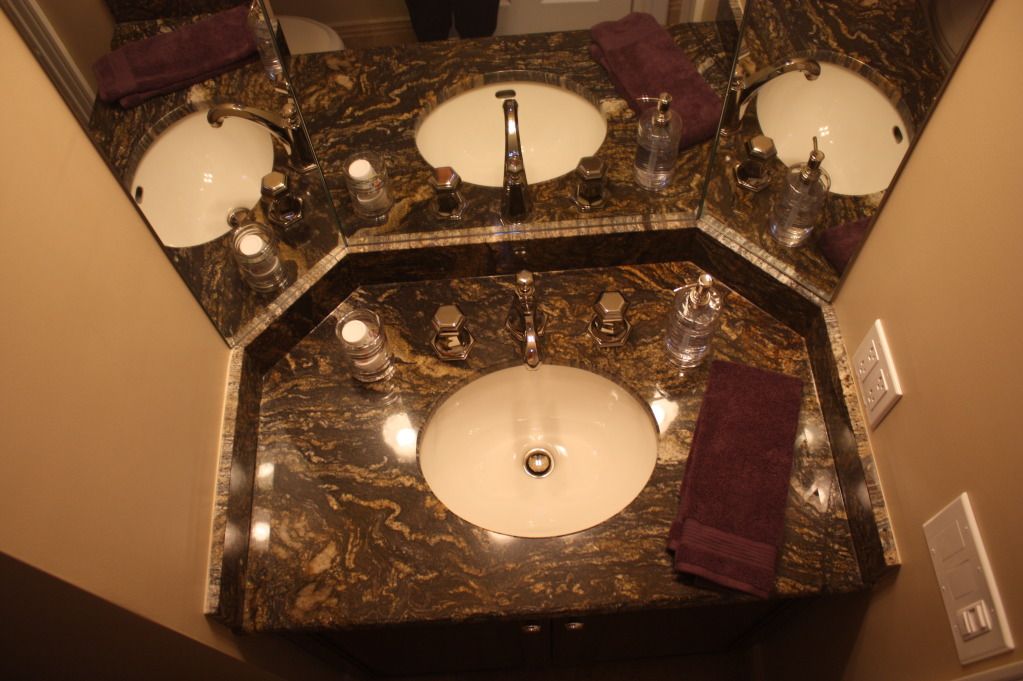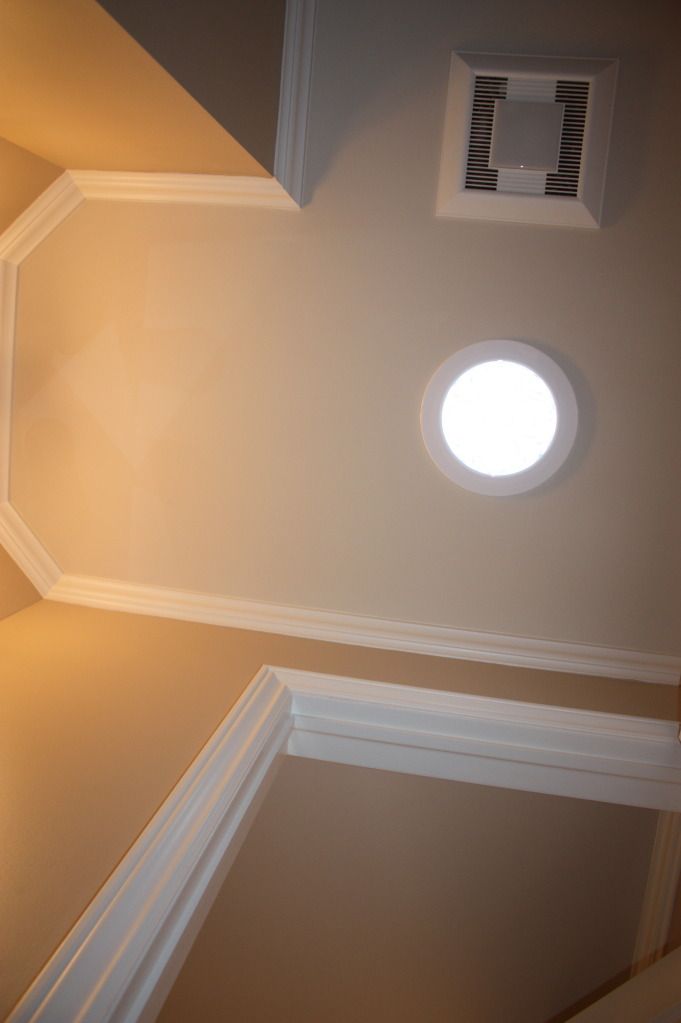 Tub area: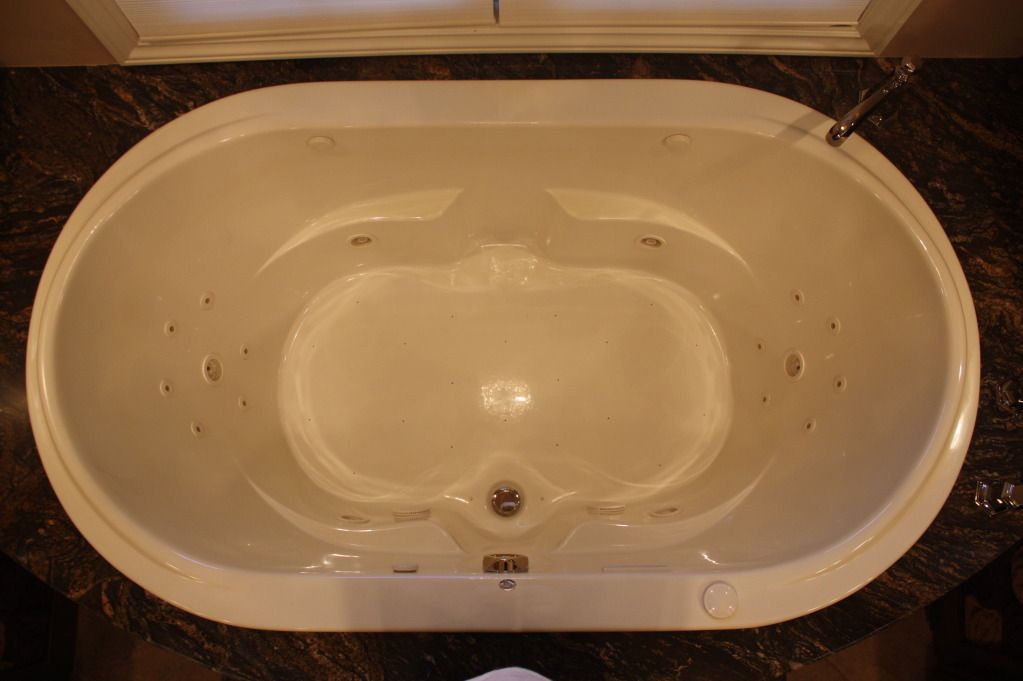 Towel cubbies:
Heated floor:
Shower: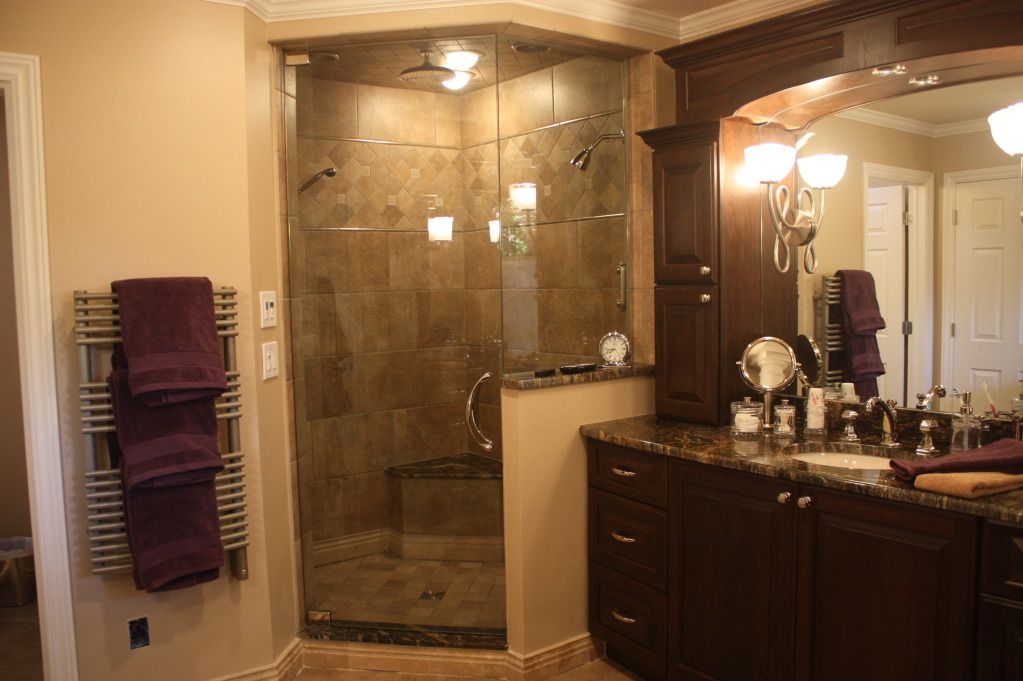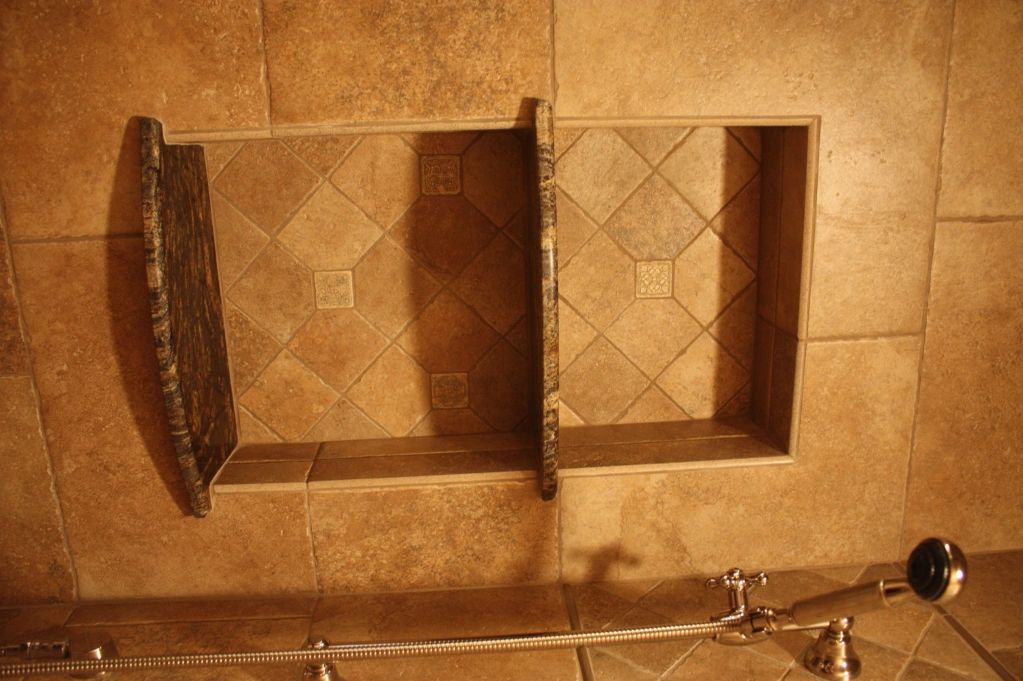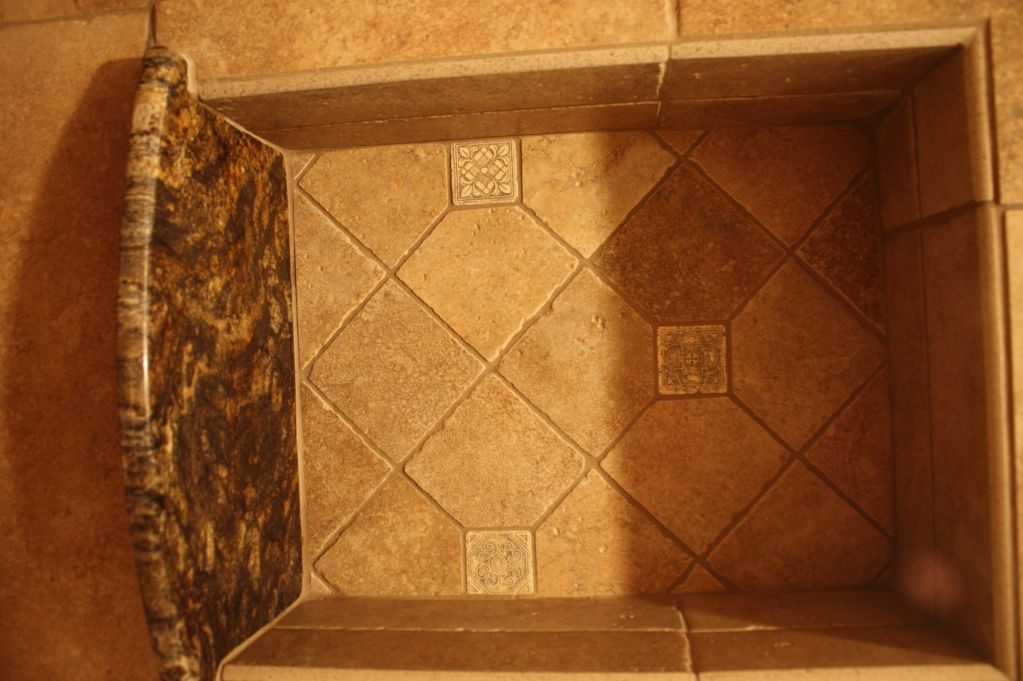 It won't be everyone's taste, but to us, it was mission accomplished!
Here is a list of our sources and materials:
Paint colors: Sherwin Williams ~ Kilim Beige, Nomadic Desert & Divine White (I'll have to check with my painter for the precise color percentages and locations of each color because we made several changes along the way!)
Whirlpool/airbath tub:
MTI ~ Harmony (#AU-85) (Biscuit)
Vanities:
Custom Amish built (solid cherry)
Chandelier: Pottery Barn ~ Clarissa
Sconces: (Hers) Justice Designs ~ Veneto Luce Capellini (Brushed nickel w/ white frosted glass)
(His) Justice Designs ~ Rondo (Brushed nickel w/ white frosted glass)
Vanity light: Justice Designs ~ Rondo (Brushed nickel w/ white frosted glass)
Faucets: Sigma ~ Alicante (Polished nickel)
Rain showerhead: Jado ~ Traditional rainhead (10") (#860/110/150) (Polished nickel)
Regular & handheld showerheads: Sigma (Polished nickel)
Electronic shower valve: Moen I/O Digital (Satin nickel)
Sinks: (2) Toto ~ Rendezvous (#LT579G-12) 17" x 14" (Sedona Beige) (With Sanagloss)
(1) Toto Undercounter Lavatory (LT577-12) 15" x 12" (Sedona Beige)
Toilet: Toto ~ Guineviere (Sedona Beige) (With Sanagloss)
Porcelain tile: Edimax ~ Materia Forte (Bronzea)
Deco accent tiles: Edimax (Travertine)
Base molding ("skirting"): The Tile Shop ~ Travertine ~ Bucak Lt. Walnut (honed finish)
Heated floor: NuHeat custom floor mat system
Granite: Moxuara 3cm
Shower door: Custom frameless with polished nickel pivot hinge
Shower door handle: U.S. Horizon 10" ergonomic handle (#HY-10BTB-PN) (polished nickel)
Vent fan ??
Towel Warmer: Runtal ~ Solea (#STRED-3420) ( Satin Nickel R640)
Water Closet
Solatube 10"
Fiberglass columns: Crown Column ~ Plain tapered 8" x 66" (trimmed) with attic base
Cabinet hardware:
Drawer pulls: Restoration Hardware ~ Mason 4" pull (polished nickel)
Cabinet knobs: Schaub ~ Empire (#882-pn) (polished nickel)
MISC
Plunger & toilet brush: Restoration Hardware Polished nickel
Countertop accessories: Target ~ Fieldcrest Luxury Glass & polished nickel?
Tissue cover: Bed, Bath & Beyond ~ Nottingham Polished nickel
Feel free to ask any questions or let me know if you'd like close ups of anything specific. I've received great answers to the many questions I posted and have read nearly every post over the past year, learning so much from all of you so I'd be happy to help if I can.
We're already on to the next project, our teenage son's/guest bath. We have promised each other to keep this one much more simple... we'll see!