No holiday pics but good intentions!
jeannespines
June 18, 2010
Ahhhh, I am out of steam! Trying to garden, trying to get some holiday decor done, trying to clean house....and it rains, rains, rains, storms, storms, storms! UGH!
Stay tuned for the beg of the week & I will share some pics of Flag Day/July 4th decor! I just finished a bit ago with the LR/Dining area ...and now must wait for daylight to take some pics...also, lost electricity for awhile!
Kids coming home tomorrow, Farmer's Market in the morning (if it's not raining), & book club at my house Mon. night...keeps ya' hoppin', right! Life is good!
So, I'm just attaching one pic & that's one I put on the Garden Junk site...it's my "Tipsy Buckets" taken yesterday, link below (if you're interested in reading the thread). Anyway, Happy Father's Day & a good weekend to you all! Now, I must go "unwind" on the couch before bed! Jeanne S.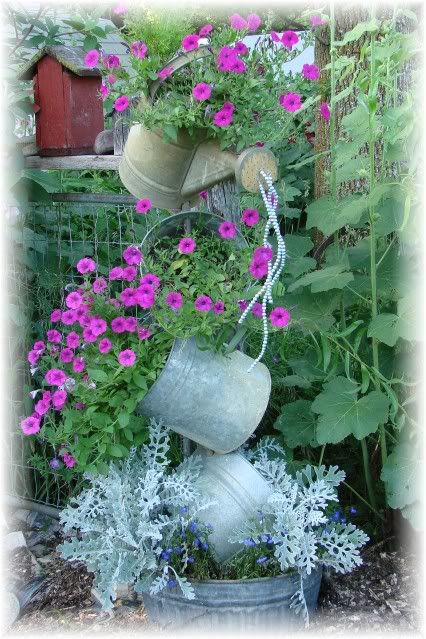 Here is a link that might be useful: Tipsy Buckets Overflowing!