After the fire ... help with condo floor plan?
Hello gracious GWers,
We are rebuilding a condo that was levelled in a fire. (No injuries, thankfully, and we were able to rescue family photos and other mementos.)
We never liked the floor plan to begin with (too small here, too large there), and now we have a chance to grapple with it anew.
I'm attaching the plan as we've redrawn it, and I'm hoping your collective fresh eye can give the rooms a quick scan. (Please forgive me if the document is unclear, or not in the right format -- I had to cut and paste to avoid including our neighbours' place. I'll have to post the second floor separately.) The framing is up but we can still make some changes.
Problems that are puzzling us include: the size and shape of the kitchen island, where (if anywhere) to put a gas fireplace, where to put the living room TV, and generally how to use the newly open-concept'd main floor. (The plan shows two little walls in the kitchen area -- they're already gone. Builder thought he needed them for ductwork, but doesn't. The two "teleposts" are all that need to remain.)
Upstairs, we'd like a bigger tub and shower in the ensuite, a functional loft (what IS its function?), and a way to clear up the clutter of doors in the small hallway.
Thanks so much for whatever input you might care to provide. There must be a better way to configure the space ... I know, because I've seen you guys do it so many times before!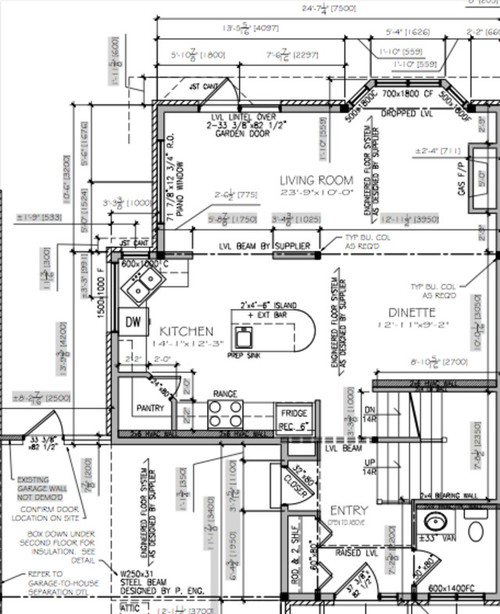 This post was edited by troff on Sun, Mar 16, 14 at 0:20