Sharing some TS Goodies !! (pic heavy)
The weather here has been a real downer - too much Rain and not much planting time - To keep from getting cabin fever, I've gone to some TS and thought I'd share with you
what I bought.
While I was in NY two wks ago, I saw a tag sale, and found this Rabbit Tureen (quite large) for $2 ! He was in perfect condition..
Also this EO Brody of Cleveland Milk Glass Vase $1...
In town at my favorite Thrift Shop - this Large Canister
$2 -
Last wk - there was a Town Flea Mkt (1/2 day no rain) - and found a few goodies there -
This large Duck Tureen - $3..
4 Devonshire Plates $4 - Covered Apple dish and S&Ps $1 ...
Small Ironstone covered dish - $1 ...
Large 'Libby' Pitcher - $2...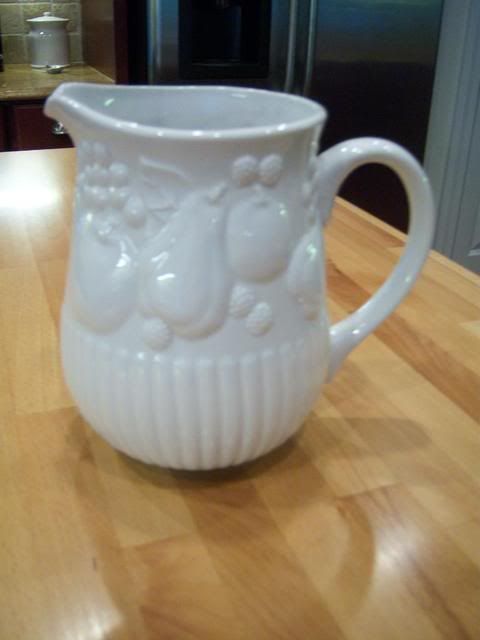 Rabbit Figurine - $1...Iron Heart Candle holder - $1 and
Birdhouse Sign $.50..
These large compotes - Brand New $1 ea -
And the 'Best For Last' ....The other day (in between raindrops) there was a TS near my house - I saw a tureen I sitting on top of a box and asked how much it was ...the man said 'I'd like to sell the two boxes..there's nice dishes wrapped up in the boxes'..I recognized the tureen as I already have a teapot from the same company and thought - what the heck. So I bought them not knowing what was wrapped up..when I got them home - this is what I found >>>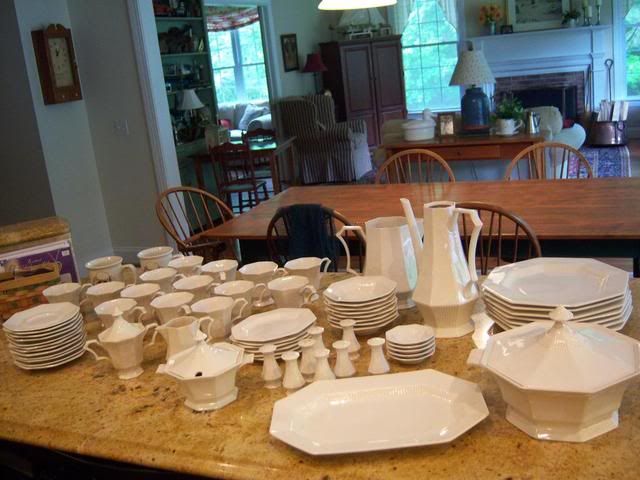 There was a few chips on a couple of pieces, and a missing top to the tall Coffee Pot, but all in all, they were in great condition...
Now would you pay $5 for the two Box Lots??? Yep that's how much this all cost....wooohooo - Big Score !!
HOpe I didn't drive you too crazy with so many pics...but I just had to share it all with you..
jane