A Few Pics of Thrift Shop 'Finds' for Future T'scaping!
I mentioned yesterday that I got to spend the day w/friends TS'ing & found a few goodies that a few yrs ago I wouldn't be looking for ('Enablers R Us' Syndrome!)
A couple ceramic chicks ($3 pr)...vintage looking ... 2 pale yellow/gold napkins, very textured ($2) & 4 bamboo napkin rings ($2.50), & 4 metal 'dragonfly' napkin rings ($2)! The little bulldog planter ($2.50) is for my DD who loves bulldogs!
A good day! And here's a close-up of those cutie chicks (has a Japan sticker on back):
Of course, those dragonfly napkin rings called to me because ...remember, I just got these glasses at a church GS not long ago...LOL!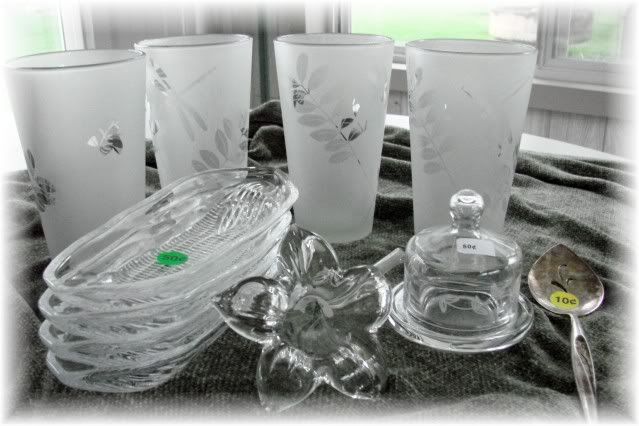 Sorry, no t'scaping lately...need to change out the buffet & Dollbaby, too...lots of 'outdoor' time now...lovin' it!
Some of you are sharing WONDERFUL 'bunny' finds...so here's my porch bunny w/a new "Jade" plant ($6) from a plant sale...& the woody/resin pear is from HLobby clearance $2 a rainy day find.
Happy Memorial Weekend, Holiday-ers! TFLookin'! Jeanne S.