Memorial Day T'scape...A few hrs left til Memorial Day!
I enjoyed getting back & doing a t'scape ... it was very hot & humid here today...so no outside work & I did shop for a few flowers ...one of which I used in my Memorial Day t'scape.
These are Gerbena Daisies that will go in my gardens soon...I potted them in a cobalt blue lidded crock...the kind that cheeses come in! Worked pretty good on this TS large plate with R/W/Blue candles ..& a bit of cut shrubbery from porch garden: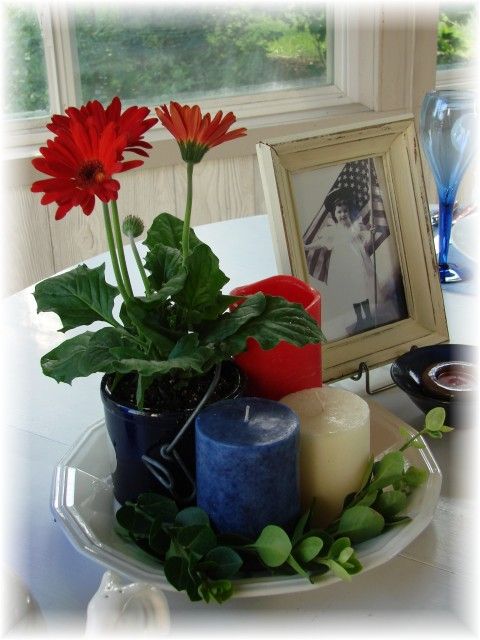 You've seen that framed girl w/the flag before...I love that print! Here's a couple place-settings ... white dinner plates I bought on sale when I first joined this forum...everyone used white dinnerplates as a staple & these are F&Floyd from BB&Beyond:
Salad plates are 3 diff flowers ... GWill find a yr or two ago...red flatware last yr from TJMaxx ...navy napkins from there, too, I think:
Bunny napkin rings I've used at Easter...but figured since the bunnies are out eating my gardens that I can sure have bunnies in my decor! LOL! So put the S&P Bunnies here, too...along w/TS teapot: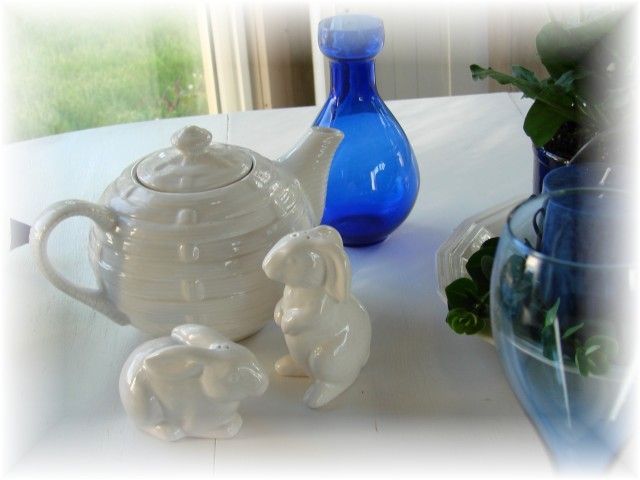 Another place-setting view...the stemware is from a consignment shop last summer ... Crown Corning Blue Tulip Wine...I remember I was thrilled to find a cobalt blue!
Here's another view: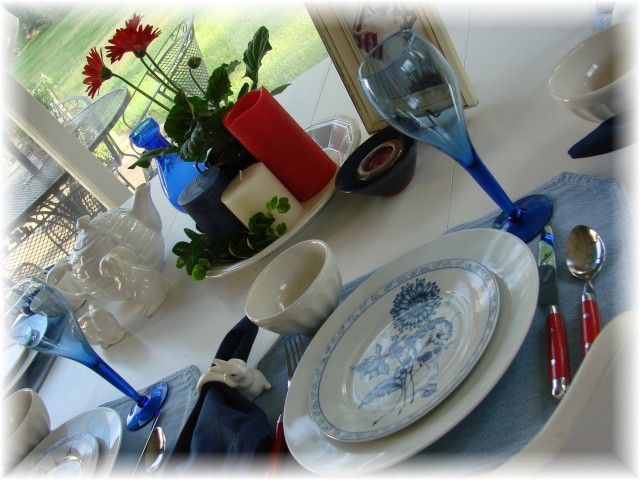 And full view of the porch table! TFLookin'! Happy Memorial Day ... we are dedicating the new Vets Memorial tomorrow at 9 am & are so pleased to have one now in our local small town! Jeanne S.