basement bathroom layout suggestions
amberm145_gw
April 28, 2014
We're building a new house, and have to decide where to put the rough-ins for the toilet, shower (tub?), and sink. We don't plan to actually install the bathroom right away, and maybe never will. But it's simpler and cheaper to plumb it before the concrete gets poured. Ripping out the concrete later is especially disruptive, since we'll also be roughing-in in-floor heat. We won't want to accidentally cut into that.
I've sketched a layout of the space. The lines to the left represent the stairs. The staircase is U shaped, so this the section that goes from about 8' at the top of the drawing, down to about 4' at the bottom of the drawing. The space is 7'9" x 6'.
I'm thinking of putting the toilet under the stairs, towards the top of the drawing, a shower or tub along the bottom wall and a sink on the right? The wall along the top won't exist until we finish the space, so the door can go anywhere.
Is putting the toilet under the stairs a terrible idea?
How would you lay out the room?
Also, there's a possibility that we could flip the stairs around (will be decided before the basement gets poured). If we do, then there won't be room under the stairs for the toilet, but some low storage. How would you lay the room out then?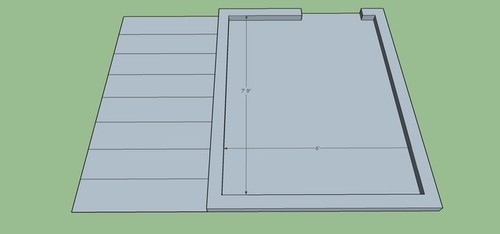 This post was edited by amberm145 on Mon, Apr 28, 14 at 17:07