Master Bath Layout Assistance
dancingqueengw
April 9, 2012
I am expanding the shower but, based on Green's advice, will keep the neo angle. I am trying to decide if I put the door in the angle or against the wall. Here are examples of current layout and the two options I am considering. I want a full frameless shower and am concerned that the door in the angle will leak per feedback I've read here. Current layout.
Proposed
Proposed
Actual photo of space.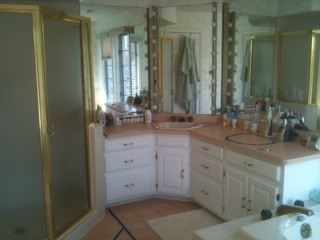 I can straighten the cabinet to the corner and thought I would make a tall cabinet with glass front. It won't angle in anymore. What do you think?