Mirror size with tiny sink/bathroom?
Hi,
I have a tiny bathroom with a toilet adjacent to the sink on one side and the shower stall on the other. Here's a pic (pre-renovation). The sink in this pic is 15" wide. However, the new sink that I'm getting is 13" wide (as anything I liked wider than than that came out too far).
As in this photo, the bottom half of the room is tiled; the top half will be painted. I plan to replace the medicine cabinet in the photo with a decorative wall mirror.
My dilemma is that the design "rule" is that a bathroom mirror shouldn't be wider than the sink/vanity below it. In fact, some say it should be one to two inches smaller!!!
This is hardly practical for me.
The old medicine cabinet pictured is 16", so you can see that I can go as wide as about 18" (including frame) to clear the outlet. I'm guessing about 24" inches high.
Would welcome any/all opinions.
Thanks!
P.S. I live in an apartment, so I'm not allowed to move the electrical.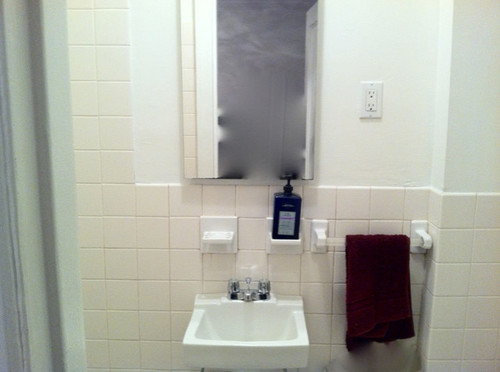 Here is a link that might be useful: Here's a link to the sink