Bunnies Hopped To My Doorstep ... My 'Happy Spark' Day!
jeannespines
April 9, 2011
Yesterday I was napping & DH got a box from the mailman at our front door ... I am still fighting the influenza junk (over 5 wks now)...14-day antibodics kicked it the middle of last wk but 3 days later, it came back strong! (yes, I am doctorin', cryin' & complainin')...so 'nuf said!
But, like jane said on another post, Punk put a "Happy Spark" into her day ...well, my pkg came from Arkansas ...from our "froufrou" here on the form & these 2 natural bunnies were ready to hop out of the box: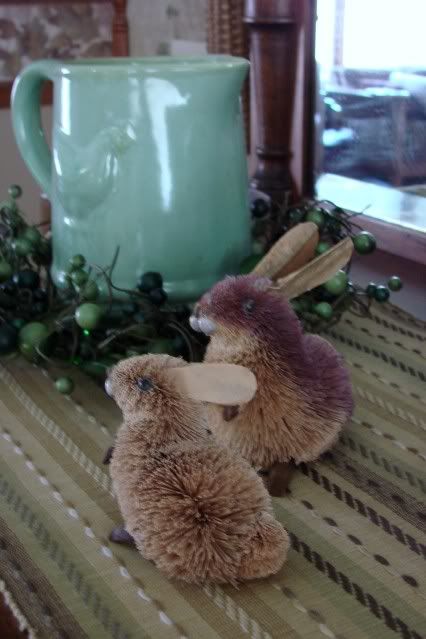 frou also sent a cute vintage (lady)card that she thought Dollbaby would enjoy...so here she is w/the card & bunnies:
I let Dollbaby keep the card ...but the bunnies went on the buffet! Thank you, frou, for this "Happy Spark" in my day, too..."excessfroufrou" was my Secret Santa on the GJ forum this past Christmas...so those bunnies knew how to get here! Ain't they the CUTEST! Jeanne S.