More Bunnies & Chicks 'Galore' in Easter 'Decor' (pic heavy)
jeannespines
April 4, 2012
I posted porch pics earlier ...here's dining room/buffet area & also my gr'ma's old treadle sewing machine in living room. I like the 'brown bunnies' ...so they're back:
Basket & eggs are both TS finds.
My new lamp this yr ... double lightbulbs...it was too bright by DH's chair so I switched it out with amber shaded one I've had here for yrs:
And if you look out the doorway...just over from this sewing center, you'll see that Spring/Summer has sprung here in IA!
I didn't do much with the buffet except move stuff around ALOT...so this is how it ended up...on the right side is my fave BIG brown bunny & a yellow TS vase from a couple yrs ago:
On the left side of buffet is recent $1 basket filled w/yellow napkins, Japan baby chicks and a old calendar page I framed in barnwood:
Here's a full view of the buffet & walnut shelf above:
A close-up of those cute lil' pastel bunnies I got at HLobby this season...they are placecard holders so will be used in a t'scape sometime...aren't they the CUTEST!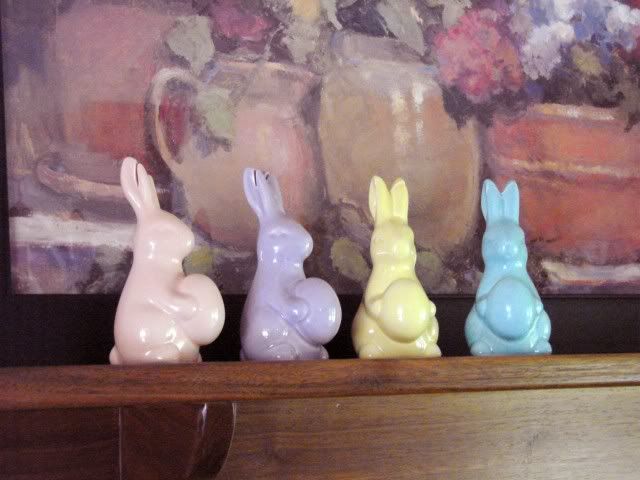 Across from the buffet is that kitchen cupboard (that I want taken out, maybe)...but it sure is nice wall space! LOL: Here's a bunny print I got at a consignment shop for $10 glass & black frame: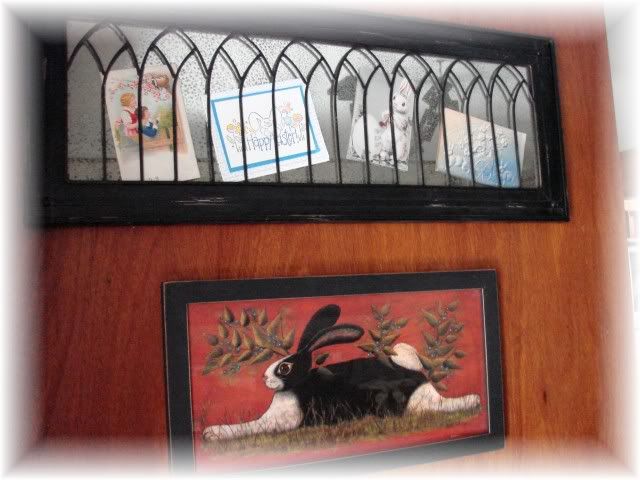 And I changed out a couple postcards in the mirror that I shared awhile back on St. Pat's day: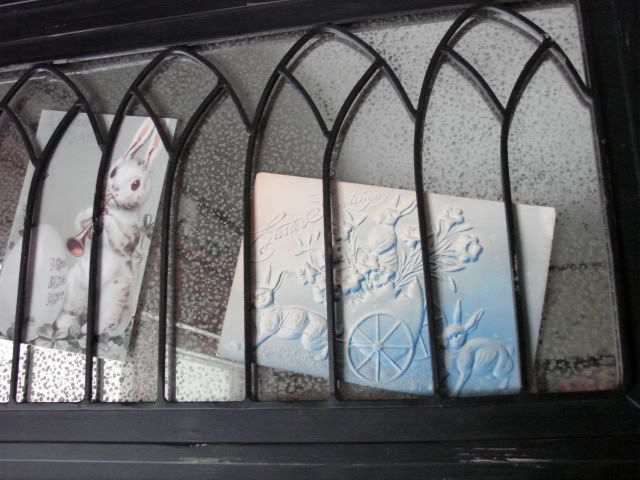 Last pic is centerpc on the dining table...I just moved some Spring things from buffet & added baby chicks...told you, Bunnies & Chicks 'galore!' Hope you enjoyed! (Dollbaby is not ready for the holiday yet.) TFLookin'! Jeanne S.