Try_Hard's appliances, one year later...
I built a new house and moved in during April 2008. I think this is a good time to reflect on the appliances I chose and how I feel about them now. I remember how much time, research, and effort I put into selecting my appliances perhaps some of my comments will help people who are currently going through the same thing.
Cooktop: GE Profile Induction 36", no frame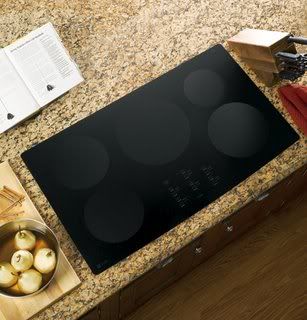 Likes: I still love this cooktop as much as the first day I used it. It is worth every single penny and I try to talk everyone I know into going induction because IÂve been so happy with it. It's very easy to clean and cooks like a dream. If I hadnÂt found this forum and learned about induction, I would have bought another gas cooktop and continued with the dreary task of scrubbing the grates or using a toothpick to clear gunk out of the burner holes. But after reading about induction on GardenWeb, I was intrigued. After A LOT of research, I decided that a lower-priced induction cooktop without the stainless frame was my first choice and this turned out to be the perfect solution for me. I rarely need all 5 burners at once but I do like the size variations. I didn't need new pans - my All-Clad and Le Creuset pans worked just fine. I have not had one instance where I've thought, "If I had gas, this would be easier/better" or "I can't do that because I don't have gas", nor do I miss nearly setting my arm or hair on fire while I cook. I have been so impressed with the extreme temperatures of this cooktop  it can cook really, really hot and it can warm incredibly low.
Dislikes: None that I can think of.
If I built a new house would I put this in it? DEFINITELY. And IÂm so happy with the GE Profile that I would not even consider paying for a premium brand such as Thermador or Wolf.
Oven: Electrolux ICON 30" convection single wall oven
Likes: I like the easy-slide shelves and the exterior appearance. The convection feature was worth the money, for sure. It seems to heat up quickly and the venting is subtle - quiet and the air it vents out doesn't blow across the room. It doesn't heat up my kitchen, either.
Dislikes: I don't like that it shows fingerprints all the time and you have to press a button on the control panel to make the control panel light up. Also, the interior isn't as big as I thought. I took my cookie sheets to the store to try them in the oven and they fit, but I've since noticed that the interior is smaller than ovens owned by my friends and family. Last weekend I roasted a 12 pound turkey and didn't have room for anything else in the oven. So next time I would get something with a larger interior.
If I built a new house would I put this in it? No. I would select a different model, but I would definitely get a convection wall oven.
Microwave: Electrolux ICON convection microwave
Likes: I love love love the convection feature. This microwave gives me the flexibility of double-ovens. It preheats so fast and is a great companion to and alternative to the big wall oven. It's not terribly noisy and cools down quickly. I've baked cookies, muffins, chicken, and a Bundt pan full of Thanksgiving stuffing in this microwave and things turn out beautifully. The microwave part works just fine, too. There is a "bacon" button that cooks perfect bacon. It's pretty easy to clean the interior.
Dislikes: Just like the big wall oven, this thing shows fingerprints. I'm constantly wiping it down.
If I built a new house would I put this in it? Maybe not this exact model, but definitely a convection microwave.
Refrigerator: KitchenAid KBLS20EVMS
Likes: The refrigerator hunt was a long process for me because I had some very specific needs: it had to be counter-depth, bottom freezer drawer, single top door, with hinges on the left. And I didn't want to pay for an elite brand or a built-in. Only 2 companies offered models that met my requirements: KitchenAid and GE Profile. In the end, I chose the KitchenAid because the interior was more appealing to me. So - as to my "likes": I love that it's counter-depth. I don't like when a huge refrigerator butts out into the kitchen; however, I recognize that one reason we can get away with counter depth is that only 2 people live in my house so we don't need that much refrigerator space. The interior water dispenser is fantastic - after having GE Profile Side by Side with water/ice in the door this interior dispenser was a treat. The ice maker is effective and quiet - in fact, the whole machine is quiet. The interior has usable space and is easy to configure to meet our needs. The temperature seems very well regulated. We also like the bottom freezer drawer. We donÂt open it often because we rarely use ice and we have a big freezer in the garage for storing our frozen food  we probably open this freezer drawer once a week. My momÂs refrigerator has a French door top with bottom freezer drawer and I like this single upper door configuration much better than her French door.
Dislikes: I can't think of any.
If I built a new house would I put this in it? Probably. I would definitely get another bottom freezer, top single door and IÂve been happy with the KitchenAid brand, but I would design my kitchen so that I could have a refrigerator that hinges on the right so that I had more choices for brands and configurations.
Dishwasher: KitchenAid KUDT03FTSS with 3rd tier cutlery rack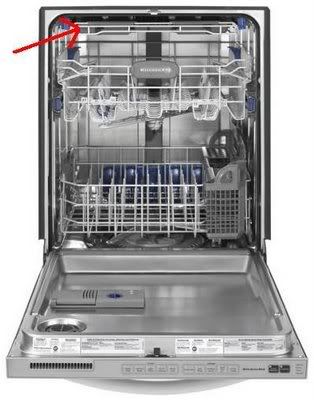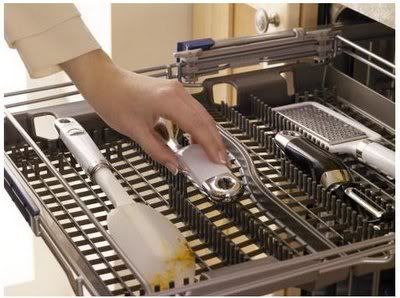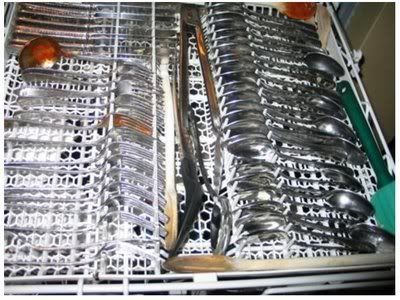 Likes: This dishwasher is quiet when running, which was very important to me. The interior is easy to configure. I love the idea of the cutlery rack; however, my silverware has a boxy handle so it doesnÂt really fit. I have tried loading the silver the opposite way but eventually gave up and threw it all in the cutlery basket. We use the third row cutlery tray for large knives, plastic lids, and water bottle caps. I considered buying dish drawers but after weeks of considering, decided that I would not get enough added benefit to justify that extra cost.
Dislikes: I canÂt think of any, but I donÂt rave about this machine like I do the cooktop.
If I built a new house would I put this in it? Maybe. I have been happy with the machine but I think there are many dishwashers out there that could meet my needs. IÂm not terribly picky as long as they clean the dishes.
Overall, IÂm still happy with the appliances  there is nothing I want to rip out of the wall or wish would break so that I had an excuse to replace it. I really enjoy cooking in my new kitchen and I credit the appliances for much of that. Have a good day!
Try_Hard