More Bunnies Hoppin' at My Place
jeannespines
April 3, 2011
Worked on some Spring/Easter decor today ...Spring has sprung! Got a little bit done on the porch table...this is the start of a t'scape...it's the centerpc:
These 2 bunnies I got for $6 for pair at a TS in Feb...they definitely found their home here (being country-lookin' bunnies!)...made of a lightwt paper-mache type medium:
Here's a little closer view...the runner is a handmade weaved rug I purchased few yrs ago at a craft bazaar:
And here's those Easter wood "blocks" with the vintage bunnies & chicks...I think they're really quite wonderful...HLobby buy 50% off $7.50:
I'm looking over my plates & such & will be doing a t'scape w/these "country bumpkins!"
While at HL a wk ago, I couldn't get past the shelves of soft Easter bunnies & stuffed animals...50% off also...so this little girl bunny came home w/me for $3.50...she's joining the cake pedestal countertop vignette I finished today...like last yr's:
Here's the cake plate pedestal w/bunny planters: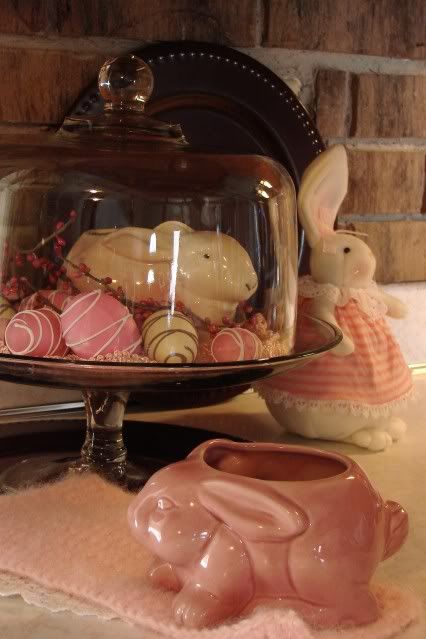 Side view:
On the countertop ledge across I added some white bunnies...S&P shakers & egg under a cloche..."Enablers R Us" influenced this vignette:
Closer view:
And this centerpc for the DR table is a WIP...you know I collect these boy/girl planters & I happened on these 2 on e-bay & got them really reasonable...I'm going to put fresh flowers in their baskets...the rectangular platter is a pc of that old Gabriel pottery I got last summer at a GS: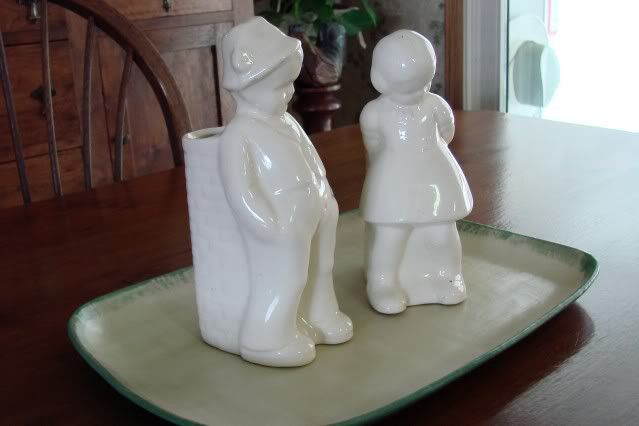 I hope there are plenty of "bunnies" hoppin' at your place soon, too! TFLookin'! Jeanne S.