Help with MB Layout, Where to Put Shower Door?
dancingqueengw
April 6, 2012
I posted this previously but (hopefully) will now be able to show pictures of the current set up
I am addressing.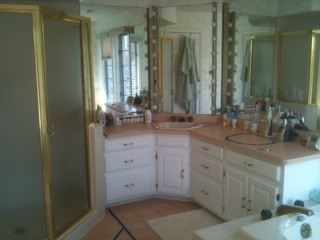 So here's the question. I am removing the angled cabinet and squaring off the area, running the new cabinet straight to the wall which will also no longer have an angle. If I square off the shower I create a 4ft by 2 1/2 ft space between the shower glass and the new cabinet. I could put the shower door against the wall where the existing angled cabinet is. Since I wanta frameless shower I believe would hold the door best. Or I can Neo-angle the shower and either put the door in the angle or attach it to the wall. I am also removing the tub and will have a free standing tub that will take up less space thus opening the area by the sink. The blue tape shows where I would move the sink and the expanded wall of the shower. What do you think would look and function best? TIA and thank you those posting how to post pictures help. I hope I got it right.