done 100% DIY 44 sq bathroom in 100 yr old house
We just finished our 100% DIY bathroom in our 1911 house.
I have been lurking this time but back in 2005 this place was a godsend when I was redoing my kitchen if you look up my name you can see my ikea kitchen.
If you click threw to to my pintrest page you can see more detailed pictures. I will add a post with a before or just after demo so you can see where it started. You all where so helpful even though you didn't know it since I was reading and not posting.
My husband did the work and I did most of the design and some of the minor work. This included a total gut of the prior bathroom that I had updated some over the 12 years I have been in the house. When I bought the house the tub was baby blue there was a vanity that you ran into when you entered. Also forest green accent tiles and a plywood stained built in. Before this gut I had updated the room a but by getting the tub recolored (plus having them do the forest green accent tiles) and switching out the lights and the sink to a pedestal
But this was a gut to studs and new subfloor. Hubby did it all.
Moving some of the plumbing, installing 2 new outlets for the jetted tub and reconfiguring the other electrical so we could have a light/fan over the tub/ a chandelier and two scones.
It took us (mainly him) 6 weeks and cost about 3k in materials. To help I hand made the shelves including staining and poly, did the primer and paint on walls and trim, also stained and poly two wine boxes for storage in the room.
The tub is a American standard alcove jetted tub from HD. It is 21 inches deep but works great as a shower combo. The tile surround is a marble look alike porcelain that I read mentioned a bunch of times here from HD. The tile are wood look porcelain tile in gunstock. The sink (I had put in a few years ago) is American Standard pedestal, and we didn't replace the toilet but may down the road. The chandelier is from Ikea and the scones we bought at an antique store in NH then redid the wiring. We got a new door at a local salvage yard. And I got the tub caddy online.
http://www.pinterest.com/rubymd1/finshed-diy-bathroom-in-100-year-old-house/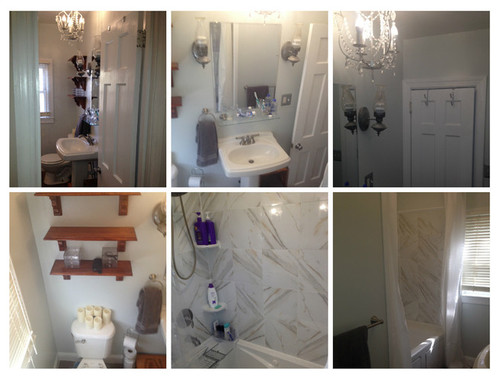 Here is a link that might be useful: pintrest page on bathroom