Dollbaby & More Bunny Easter Galore!
jeannespines
April 6, 2012
Well, Dollbaby changed into her Easter duds ... & is ready for the gang to arrive! Here she is with her fave Easter Angel Bunny...a gift some yrs back:
Her Easter tray'scape consists of a white doily placemat I crocheted, pink depression glass dinnerplate (Dollbaby size), Lefton China ("handpainted trademark exclusives Japan")salad plate & cup & silver (flowered) flatware...all thrift shop finds:
Salad plate is topped w/small cloche (garage sale) with faux pink Easter egg from Hobby Lobby)
Here's a full view of Dollbaby's Easter decor: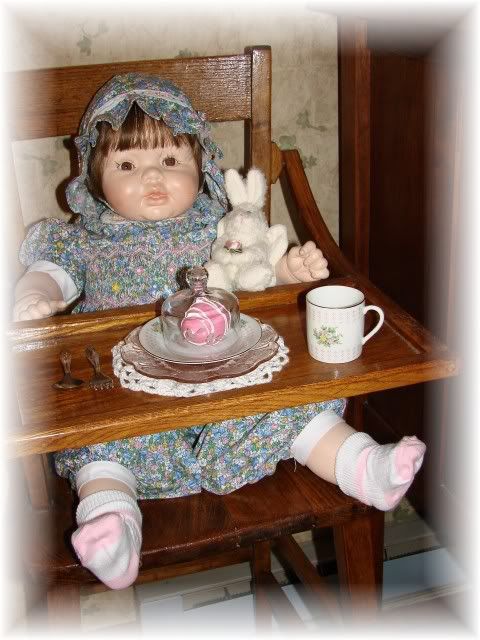 And she convinced me that since I can't do 'Candyshots' on the dining table, that I should try it with her tray'scape! LOL! OK...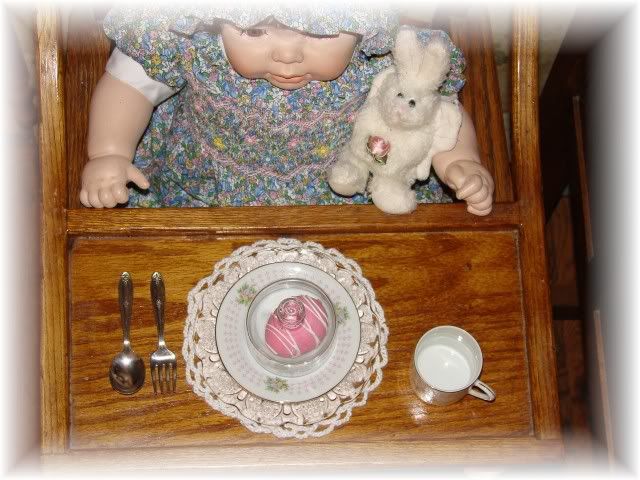 Well, I dont' think that was very impressive!!! LOL!
Added a bit of decor to kitchen countertop: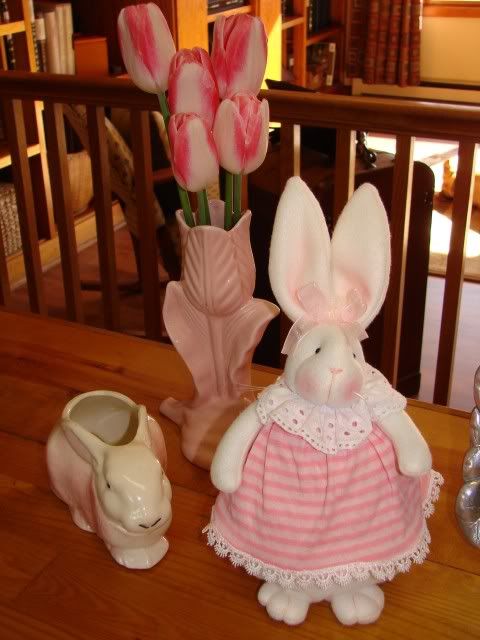 The bunny planter is old ... & the tulip planter is new this yr ...I bought it at a specialty shop & cut some tulips yesterday as we were to get a frost last night..the soft bunny girl was a HLobby find last yr 50% off.
And added this Arthur Court 1990 bunny tray I found at a consignment shop this past yr (thanks to 'Enablers R Us' on this forum!)
HAPPY EASTER everyone & TFLookin'! Jeanne S.
I've posted a couple other "Bunnies & Chicks Galore" a couple days ago There'...here's a link to more pics of buffet/dining area.
Here is a link that might be useful: More Bunnies & Chicks 'Galore' in Easter 'Decor' (pic heavy)