Enduring: question about your LCD lights
Enduring -- Oops, the title should read LED lights!
As I commented on you reveal post, I love the entire package, but the backlit mirror is something my husband and I are trying to pull off. We are using mirrors with frosted edges to do something a little like this: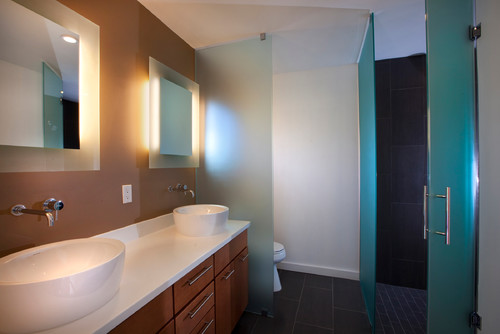 Modern Bathroom by Phoenix Architect Spry Architecture
But like you, am going with an oval mirror that will be light all the way around. You mentioned that the light was quite bright before putting the mirror up, but that the mirror itself blocks the light. Can you tell me the specifics on the type of LED strips you used, lumens per foot, etc? I'm hoping to get enough light so that without scones the mirrors will be functional. ( Will also have can lights).
Thanks!
This post was edited by rjr220 on Sat, Apr 20, 13 at 9:04