Beautiful Gifts Arrived Today-and it's not even Christmas!
DH & I were out all day today and came home late. As usual, we come in through the garage, but DH always checks the front porch. I went into my bedroom to change, and a few minutes later, DH comes in and asks if I knew who (man's name) was. I said no...he then laughingly says are you sure..I look at him and say 'am I supposed to... is he an actor I should know?'
He then says...'Well he knows YOU and sent you a package!
Do you have an Internet Admirer?'
Then 'Bingo'... I realized it was from dear Punk. She told me she was sending me matching dishes to her DM's cups she sent me last yr. I looked at the box and it was LARGE! When I opened it up..there were the two dishes AND some beautiful gifts as well! Take a look and see what she sent me...
Aren't they lovely!...The cups from last yr on the right...and the two matching dishes in front of them...
just beautiful...and I was in total shock to see the
lovely things that came with them.
The two BEAUTIFUL bowls (LOVE THEM PUNK) and the cute...cute 'America' blocks!!!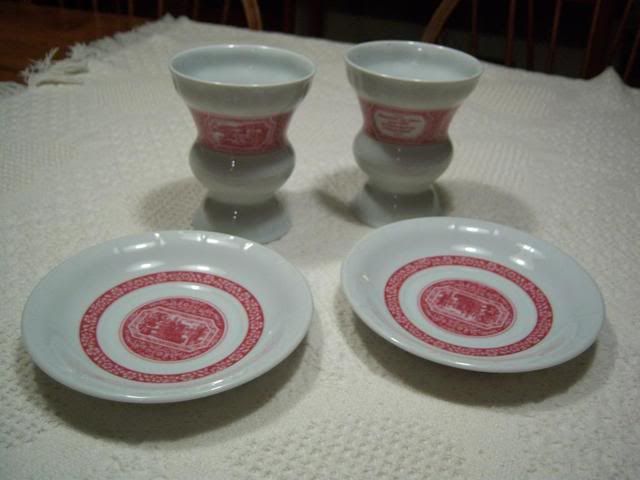 Punk, I can't wait to use them ALL! As soon as Easter is away, those cups and plates will take their place on my white hutch with the other Pink & White dishes.
DD loves the ribbon bowl and blocks and DH - the 'cut out' bowl and blocks..
I love them ALL!!
Thank you so much for putting such a 'Happy Spark' in my day. You are too generous and as I've said many times, such a 'Good Heart'!
Thank you again dear friend.
jane