Spring/Easter Table Centerpcs 'Tweaked a bit!'
jeannespines
April 7, 2011
I "tweaked" a bit today...
changed the porch table from this:
to this:
Closer view of wire basket ...probably 10 yrs old or so & some eggs that are usually in a summer display on top of fridge...the cute little sign was a gift from GSon & his special lady last summer: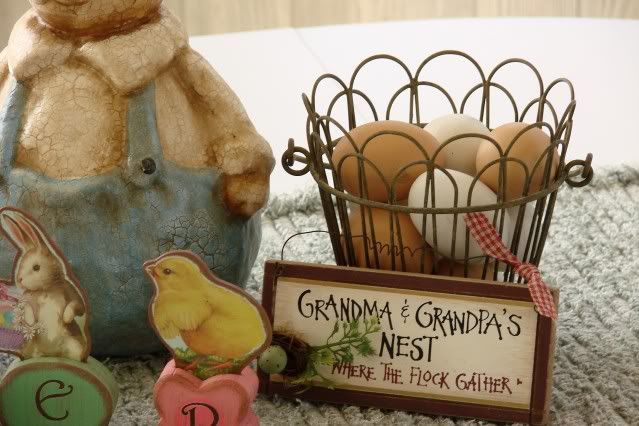 Since still battling the "crude," DH & I made a prescription run to CVS yesterday & I got some candy eggs...now I need to buy about 3 more sacks ...they are cookie'n'cream ones for 99 cts. bag (I liked the pastel foil colors)...here's where I used them on "tweaking" DR table:
Will get more daffodils when I get to grocery store ...but these I stole from my gardens today...faux timer lime green candle in backgrd.
Thanks to our, "luvs," on this forum, for the suggestion of my B&G planters looking for eggs! Won't they look nice when I get a couple more bags of eggs & spread them all around!
TFLookin'. Jeanne S.