Easter Decor for Dollbaby + Buffet & a bit More (pic heavy)
jeannespines
March 26, 2011
Started some Easter decorating the last day or two ... the weather doesn't feel like Spring but the calendar says it is & Dollbaby thought she needed some Easter joy!
Here she is in her colorful, flowered "smocked" jumper & bonnet (a TS find last yr):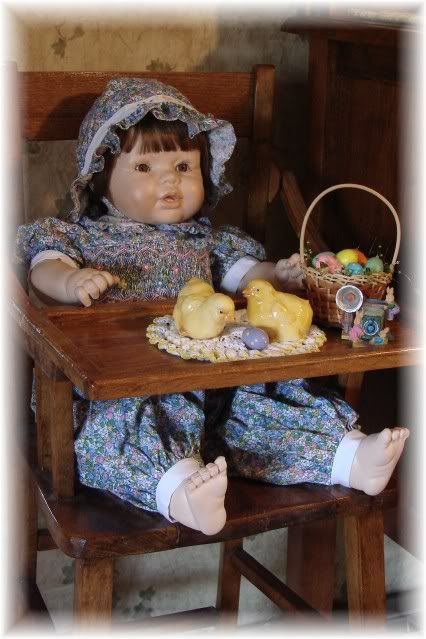 Here's a closer view: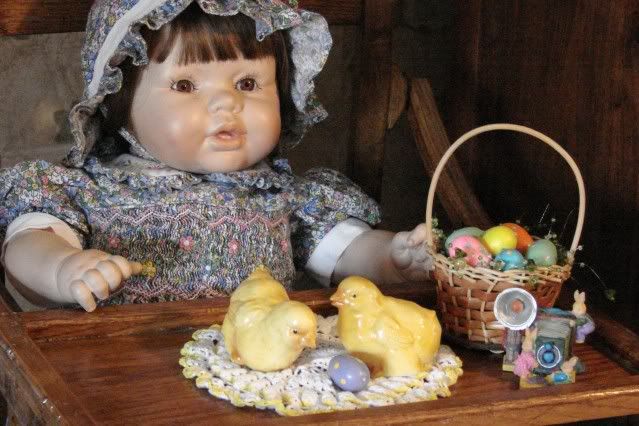 Yup, barefoot & all! She wanted to feel the grass between her toes while she chased baby chicks! Good grief! It's cold out there! I need to find her some "frilly" pink or yellow socks!
Here's a closeup of her tray goodies...the little basket is a TS find this yr (50 cts) & looks handmade like partymusic's work! The wood eggs are kind of old & recycled...used to be on a tree. The ceramic chicks I've had a couple yrs...Dollbaby got her way & got to keep them on her tray...Mama Hen is separated from them this yr! And the little camera w/the bunnies was a gift some yrs back...crocheted doily TS find: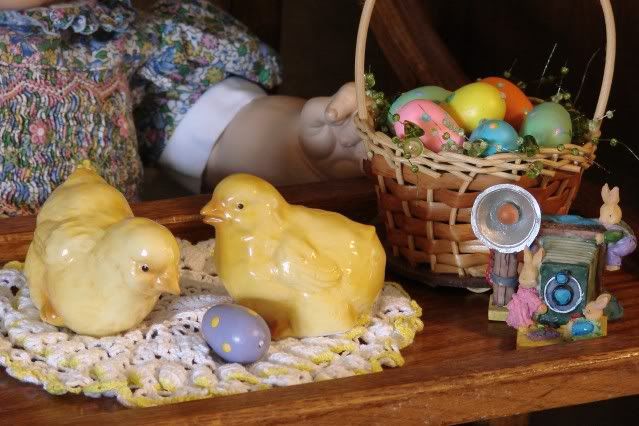 Here's "Mother Hen"...my DH drilled a hole in the bottom of her so I could put her on this old wood column ... & the big Mama Bunny is on the buffet:
Here's a pic of the buffet so far...I didn't get any fresh flowers yet (or faux) for the pitcher: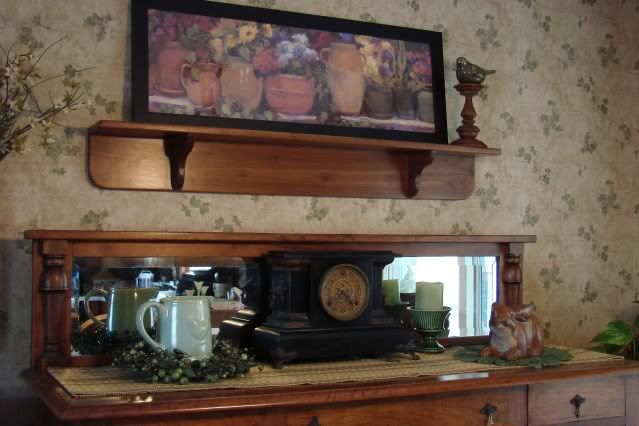 Also in the dining room, my DH built an oak shelf for above the sliding glass doors some yrs back & it is decor'd for Spring...hard to photograph:
These are just some pottery planters & some teakettles I've collected (teakettles are because of "Enablers R Us!"
This pic shows the stained glass light that was handmade along with the buffet & table by my DH's gr'ma's brother-in-law (1894-1938) that we bought at g'parents estate sale in 1985...& also you can see winter decor on the porch! Needs to warm up so I can get my "bunnies" & fun stuff out there!
Oh & Mama Bunny's babies found there home once again this yr in the living room on the treadle sewing machine: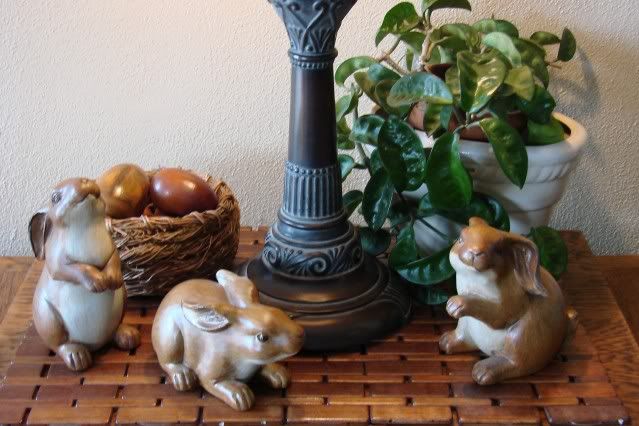 Shall I leave you with one more pic...oh, I just can't resist being naughty! LOL! Here's another BOP Spring pic...the jar has soap eggs in it (topper from Avon gift...jar got broke)...& a new cast iron "birdy" to go w/the cast boy & girl.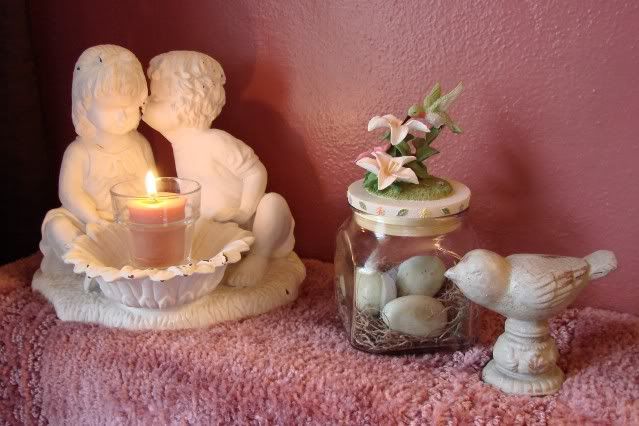 Whew! TFLookin'! Enjoy your weekend & Think Spring! Jeanne S.