Dollbaby & Her 'March' Decor plus Buffet
jeannespines
March 9, 2011
Dollbaby hasn't been very receptive to my being out of commission with this respitotory crude (day 6-l/2) ...today she convinced me to "set her tray" & take some pics ...no tripod or anything, just take a few pics!
So I did...she was tried of playing "Scarlett" so here she is w/brand new "bib of roses" & a new outfit from TS this past yr...her bib matches my Lariat painted plate of roses:
I was saving this "Wicker looking Teddy" for Easter decor (party_music has been influencing me!) which I found last mo for $3 at a TS...not really basketweaved...but sure looks it! So I gave in & let Dollbaby have her way. The linens on her tray are quilt squares of "old-fashioned" patterns.
Here she is full-view...the little cup/saucer embossed w/pale green...another TS find $1 & her outfit is a dress & panties...very Springy!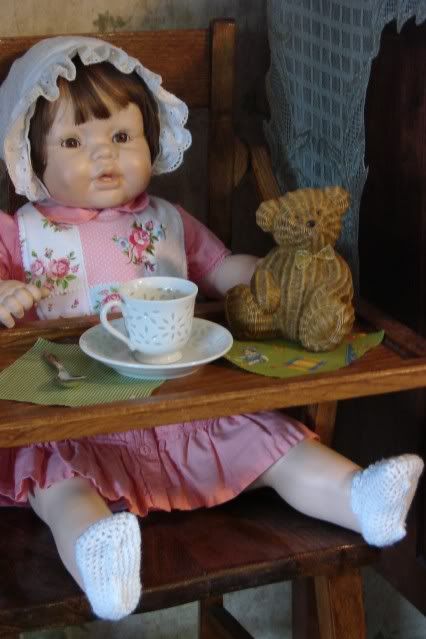 I was changing out the "March" decor (before I got sick)...used green Heritage Lace mantle scarf for the linen...added these iron candles & some more of the Heisey Lariat elegant glassware:
Here's a close-up of the candlesticks...always love how how the buffet mirror reflects back an image:
Here's the whole buffet & the shelf...Lariat platter w/roses is what I built Dollbaby's outfit from...
the framed work is postcards that I matted & DH reworked an old frame for me which I painted (greens/gold) some yrs. ago...
the candlestick/bird idea is from luvs (I think) on this forum altho I couldn't convince myself to paint it "white:"
And here's the start for the table...centerpc...2 pieces of Heisey Lariat, new candle ring & seeded garland (l/2 price sale) ...w/new faux timer green candle: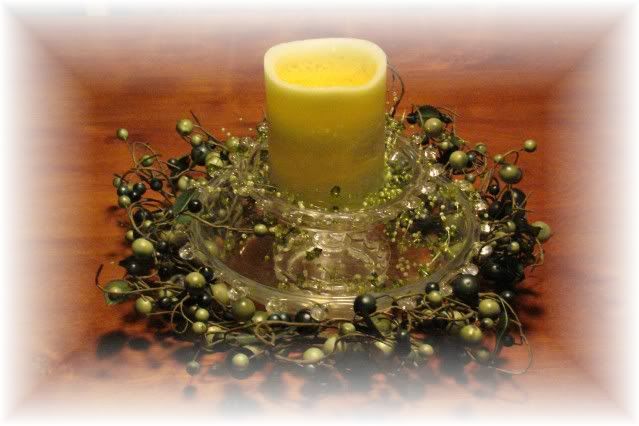 Well, this should make Dollbaby happy for awhile, anyway! Hope you've enjoyed this "March" into March...warmer weather ahead...St. P's hope will get integrated soon when I get to be out & about again! TFlookin'! Jeanne S.